Wedding Dates are For Better and For Worse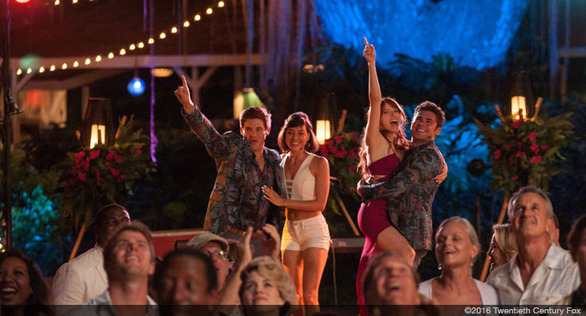 Are you on the list? Mike and Dave Need Wedding Dates and the best and worst wedding guests from movieland...
"Thank you for making this day so special."
They say it at every wedding: "Thank you for making this day so special." And in the movies, every wedding guest worth a line really is that special. Some are heroic: think Westley galloping in to save the day in The Princess Bride. Others are notorious. Consider Anna Kendrick's Alice and Aubrey Plaza's Tatiana from Mike and Dave Need Wedding Dates to be proud members of the latter category.
When Zac Efron's Dave and Adam DeVine's Mike invite Alice and Tatiana to their sister's Hawaiian wedding after a chance encounter, the guys think their dates will win them points with the family for good behaviour. But the women prove to be worse wedding wreckers than even the brothers themselves.
Alice and Tatiana are just the latest inductees into the movie wedding guest Hall of Fame. These are some other most memorable wedding guests, for better or for worse:
BEST GUESTS EVER:
Annie in Bridesmaids
With Annie (Kristen Wiig) as your maid of honour, are you sure you want to take this man as your lawful wedded husband? Because it seems more fun to live your life (not to mention a Wilson Phillips singalong) with a friend like this in your sidecar. Of course, one of the reasons Bridesmaids is so satisfying is that it knows you don't have to choose between your dearly beloved and your BFFs: sometimes they're both until death do you part.
The wedding guests of Mamma Mia!
Maybe the guests at the wedding of Sophie (Amanda Seyfried) were just there to soak up some Greek island sunshine. No one seems to mind when she calls off her wedding to Sky and the ceremony is hijacked by her maybe-dad, Sam (Pierce Brosnan), as he weds mother-of-the-bride turned actual bride Donna (Meryl Streep). Like everything in the movie, they have choreography for just such a scenario.
Samantha, Miranda, and especially Charlotte in Sex and the City: The Movie
Consider this a training video for every bridesmaid crisis scenario. When Carrie is left at the altar by Mr. Big, her BFFs activate a swift de-bride-ification, sweeping her off to Mexico where she can begin taking baby steps back from heartbreak. But not before Charlotte assaults the groom with cinema's fiercest finger wag.
Mark in Love Actually
The only thing that keeps best man Mark's wedding day surprise (a choir singing "All You Need Is Love," complete with a band embedded among the wedding guests) from being the most thoughtful marriage moment of movie history is that he is secretly bursting with unrequited love for the bride, Juliet (Keira Knightley). Whoops!
John and Jeremy in Wedding Crashers
They sing, they dance, they lead rounds upon rounds of shots. Sure, they're not "invited" guests, but they totally (probably) would be if the bride and groom knew them. After all, who could resist hanging out with Owen Wilson and Vince Vaughn
WHO INVITED THEM?
Shrek in Shrek
In the tradition of Ben (Dustin Hoffman) in The Graduate, adorable ogre Shrek interrupts Princess Fiona's wedding to Lord Farquaad to profess his love for her. Arguably the best kind of bad wedding guest.
Adam and Barbara in Beetlejuice
Not only does Barbara (Geena Davis) commit the ultimate crime by wearing a wedding dress to the nuptials of Lydia (Winona Ryder), she also spends the event pulling focus by dissolving to dust alongside her husband Adam (Alec Baldwin). She then rides a sandworm through the ceremony just as the Lydia/Beetlejuice pairing is almost a done deal. Not the wedding that every girl dreams of, but it constitutes an ending happy enough for a levitating dance routine.

Kym in Rachel Getting Married
Jonathan Demme's dysfunctional family drama dares to ask, "Do I really have to invite all of my family members to this wedding?" Kym (Anne Hathaway), sister to bride Rachel, gets a day pass from her drug rehab program to attend (and maybe kind of ruin?) her sister's wedding. It's a poignant reminder of the "for worse" half of those lovey-dovey days.

Jacob in The Twilight Saga: Breaking Dawn — Part I
Bella (Kristen Stewart) is all too happy to forgive besotted werewolf Jacob when he shows up hours late for her wedding. But things turn ugly when he finds out she plans to honeymoon with her new vampire husband, Edward, as a human. Because that's where the line is crossed when you're dating the undead?

The Deadly Viper Assassin Squad in Kill Bill: Vol. 1
Uma Thurman's The Bride is left for dead on her wedding day after fending off Deadly Viper Assassin Squad wedding crashers, whose social faux pas are far worse than swiping some free brie. While they might not have made the guest list, they're at the top of The Bride's death list.
Ryan Porter is a freelance entertainment writer who contributes to the Toronto Star, Flare, and CBC.ca.