Treat Mom to More Than Tea and Scones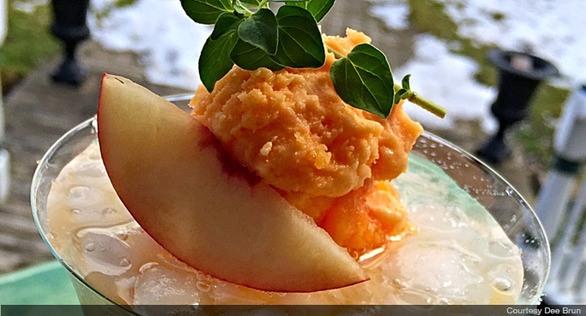 Forgo Mother's Day tea and scones for some revamped (and retro) tasty treats. Mom will surely thank you!
Banana Bread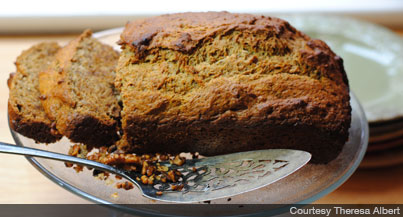 There's nothing more housewarming and comforting than a banana loaf. Its ability to go from the breakfast table to entertaining to late-night snack is nothing short of virtuous. This recipe has a streusel topping that can be left out if you don't want the extra upside-down ordeal, but why not go the extra mile for mom?
Serving Size: 12 Preparation Time: 15 minutes

Topping:
1 cup whole walnuts
¼ cup melted butter
¼ cup quick oats
1 teaspoon ground cinnamon
Loaf:
1 cup mashed ripe banana (4 medium)
¼ cup honey
¼ cup toasted sunflower oil (or grapeseed oil)
¼ cup ground flax
1 cup all-purpose flour
1 cup whole-wheat flour
½ cup firmly packed brown sugar
1 teaspoon baking powder
1 teaspoon baking soda
½ teaspoon salt
butter for pan
Combine nuts, butter, oats, and cinnamon in a stand mixer bowl; stir well. Butter a loaf pan and pour mixture into it.
Combine banana, honey, oil, and flax in mixer. Stop mixer and add dry ingredients, whirring on low just until moistened. Spoon batter into loaf pan with topping.
Bake at 325 degrees for 60-75 minutes or until a wooden pick inserted in the centre comes out clean. Cool in pan 10 minutes, then turn upside down to remove from pan. Cool completely on a plate before cutting with a serrated knife.
Yield: 12 servings (serving size: 1 slice)
— Theresa Albert is a registered nutritionist and founder of My Friend In Food
Not-so-fuzzy Navel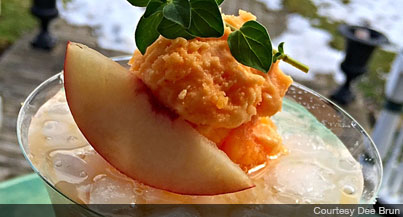 You may (or may not) have good (or fuzzy) memories of this throw-back cocktail, so now's the time to freshen it up — minus the schnapps I'll bet you can't stand the thought of.
1.5 ounces vodka
1 ounce Cointreau
1 ounce mango juice
2 ounces peach juice
1 cup crushed ice
1 scoop peach sorbet
Pour all ingredients (except for sorbet) over crushed ice. Top with a scoop of sorbet and garnish with fresh fruit.
— Dee Brun is a cocktail stylist and writer at CocktailDeeva.com