Movie Entertainment's Ho-Ho-Ho-Holiday Gift Guide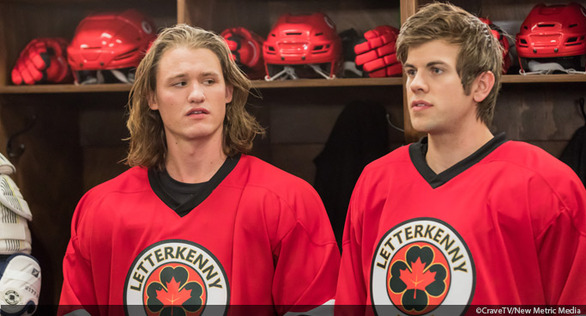 It's called the "four gift rule" of holiday giving, and it serves to rein in the kind of crazy over-shopping (and overspending) that tends to happen over the season.
So with "something they want, something they need, something to wear, and something to read" as our guideposts, here are gift ideas for the movie and entertainment buffs on your list who've been nice instead of naughty this year.
SOMETHING THEY WANT
I'll tell ya what they want, what they really, really want. And there's no limit to the imagination (or the price tag) when it comes to these amazing prezzies.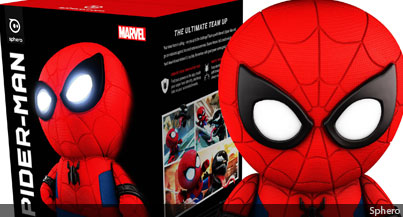 Does way more than a spider can …
Spider-Man App-Enabled Super Hero Toy
OK, so he can't spin a web (any size) or even swing from a thread, but this friendly neighbourhood Spider-Man can tell corny jokes, share stories, and even guard kids' bedrooms from unwanted intruders like snoopy siblings. (BestBuy.ca, $200)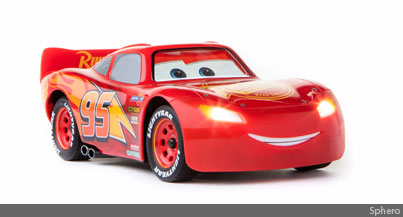 "The racing is the reward. Not the stuff."
Ultimate Lightning McQueen
Ultimate Lightning McQueen is truly the ultimate. This app-enabled toy is like having a miniature Lightning driving around your house. He talks, he blinks, he responds to your voice and touch, and his AC charger is like a little gas nozzle! (BestBuy.ca, $400)
Pair Ultimate Lightning McQueen with the newly released Cars 3 Blu-ray if someone's been really good this year.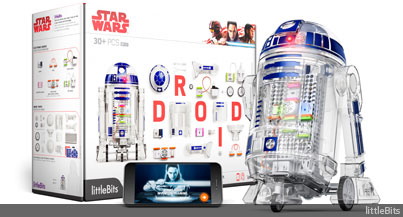 Trust this strange computer …
Star Wars Droid Inventor Kit
R2-D2 was scolded for trusting a strange computer, but surely you can put your faith in one built at home. Using littleBits electronic blocks, young rebels can create their very own droid, and program it to deliver messages or draw out codes. (indigo.ca, $130)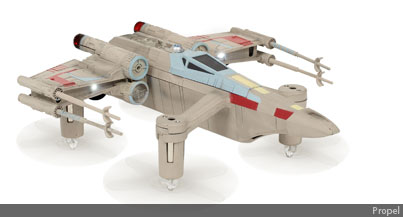 "Can you fly a TIE fighter?"
Star Wars Battle Drones
In Star Wars: The Force Awakens, Poe confidently tells Finn (and us) that he can fly anything. And now so can you, with these epic battle drones. Turn your living room into a galaxy far, far away, and choreograph new combat scenes starring X-Wings and TIE fighters. (BestBuy.ca, $230 each)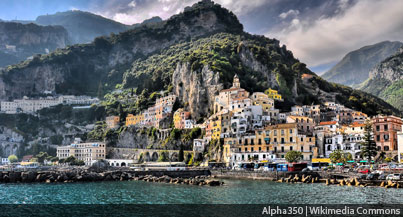 Who will you be if you stay?
Wonder Woman-inspired Amalfi Coast vacation
There was so much to love about Wonder Woman, starting with her glorious home of Themyscira. The movie was filmed on and around Italy's Amalfi Coast, and a family vacation encompassing the stunning sights and surrounding area would be the ultimate gift. Gladiator lessons in Rome included! (The Sweet Life: Rome & Sorrento, Tauck.ca, from $4,540 per person — airfare not included)
SOMETHING THEY NEED
Just because it's something they need, that doesn't mean it needs to be boring.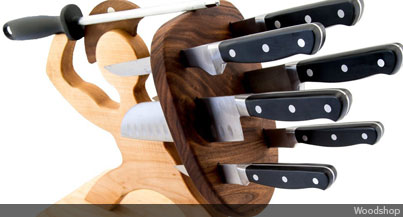 "Ready your breakfast and eat hearty …"
Spartan Knife Block
Even if they won't be dining in hell with the rest of the Spartans, fans of 300 (and of unique kitchenware) will appreciate this unique take on knife storage that's sure to make everyday slicing and dicing a little more exciting. It comes in assorted finishes; knives are not included. (Spartan Knife Block, amazon.ca, from $93)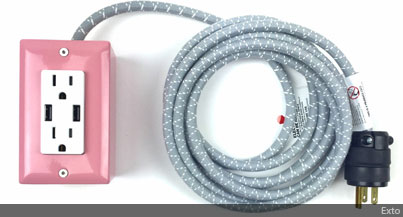 Get plugged in …
Exto Extension Cords
Today's home power outlets are no longer enough to support our expanding (and expanding) electrical needs, and that tangle of ugly wires drives everyone bonkers. These groovy extension cords are meant to be seen, not jammed behind the couch or artfully hidden behind a lamp. (small-mart.ca, prices vary)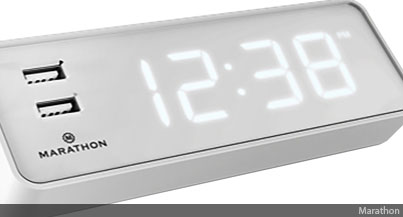 "OK, campers — rise and shine!"
Marathon Alarm Clock
Most mornings feel like Groundhog Day, even if we're not waking up to "I Got You Babe" in a cluttered B&B. If you're looking for a useful gift that will help nudge those loved ones out of bed, Marathon's modern take on a digital alarm clock, with two USB outlets, will ensure their devices are fully charged after a full night's rest (even if they're not). (Staples.ca, $70)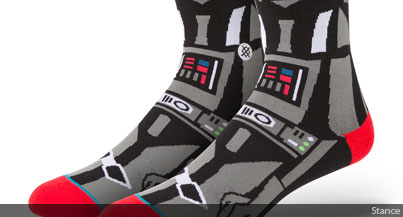 "One can never have enough socks."
Stance Socks
Our beloved Professor Dumbledore was a big fan of socks as a gift, so we must follow his lead and believe our giftees will be just as appreciative. Stance socks are the socks that are perfect for giving, with patterns ranging from Star Wars-themed (Justin Trudeau is a fan) to sports teams, stripes and solids, and every conceivable combination in between. (stance.com; prices vary)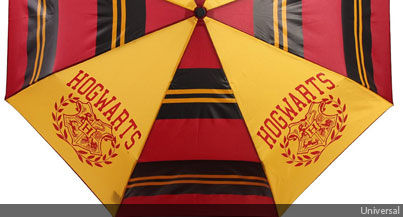 Dance in the rain …
Hogwarts Crest Compact Umbrella
And here we are, back at Hogwarts for some useful gift-giving inspiration. The often gloomy British weather demands an accessible umbrella at all times, and that's a useful habit for Canadians to adopt. Even if their alma mater isn't actually Hogwarts, having a Hogwarts-inspired umbrella means your loved ones are clearly cleverer than your average Muggle. (amazon.ca, $23)
SOMETHING TO WEAR
Make getting dressed (or undressed) even more special for those important people on your list.

"Breaker of Chains"
Game of Thrones Delicate Breaking Chains Necklace
Even Daenerys Stormborn of the House Targaryen, First of Her Name, the Unburnt, Queen of the Andals and the First Men, Khaleesi of the Great Grass Sea, Breaker of Chains, and Mother of Dragons wants to jazz up her outfit a bit. And your breaker of chains will appreciate the subtle style of this sterling silver necklace created by Game of Thrones' official jeweller. (store.hbo.com, $900 US)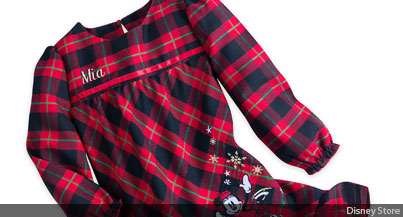 Pyjamas all day …
Holiday Plaid Pyjamas
This year, your Christmas morning family photos will be Pinterest-perfect with everyone wearing these cozy and cute flannel pajamas. Make sure the kids don't spill hot chocolate on them, and don't forget to wake up early to do your makeup and hair! (shopdisney.com, from $20 USD)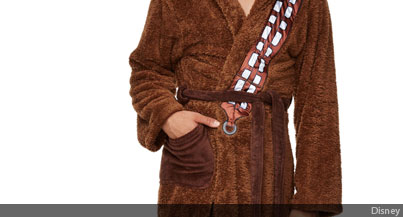 "We wish you a Wookiee Christmas!"
Chewbacca Bathrobe
It's that festive time of year again, when Star Wars fanatics around the world seek out the 1978 classic, The Star Wars Holiday Special, on YouTube. That special someone on your list will feel right at home on Kashyyyk with Chewbacca and his Wookiee family in this comfortable fleece robe. (amazon.ca, from $70)
You get a tracking number …
Letterkenny Hockey Jerseys
Your beloved beauty or bender will be the envy of the beer league in their personalized Letterkenny hockey jersey. Choose Shamrocks or Irish. Hockey slang dictionary not included. (Letterkenny.tv, from $125)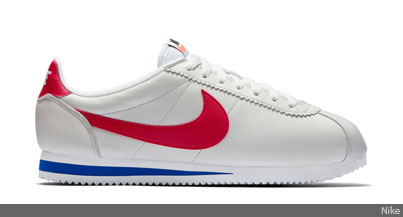 Run like the wind blows …
Nike Cortez Sneakers
The classic '70s styling of the Nike Cortez fits in well with today's athleisure looks if the jocks on your list are looking to step up their fashion game, too. Forrest Gump ran in his for three years, two months, 14 days, and 16 hours, so these should hold up to today's typical wear and tear. (nike.ca, $70 and up)
SOMETHING TO READ
If you're going to try to place some limits on screen time over the holidays, make sure they have something new to pick up.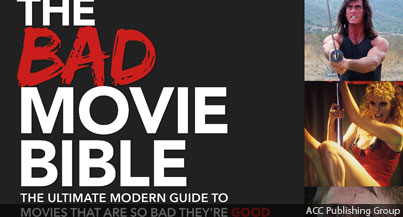 The Good, the Bad, and the Really, Really Bad …
The Bad Movie Bible by Rob Hill
When movies are so bad they're good, they deserve to be celebrated, and most movie buffs love to agree to disagree about which titles belong on cinema's naughty list. Author Rob Hill breaks down more than 100 titles from the past 50 years of horrible action, science fiction, fantasy, and horror movies. (indigo.ca, $34)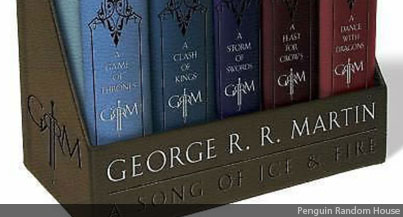 All men must read …
George R. R. Martin's A Game of Thrones Leather-Cloth Boxed Set
The series is now technically "off the books" so, with HBO making Game of Thrones fans wait until possibly 2019 for the eighth and final season, there's plenty of time to get your viewing companion to finally read the books (so you can stop rolling your eyes when they share their theories). (indigo.ca, $97)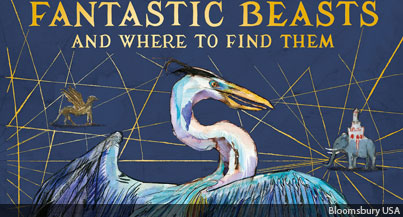 "It was opened? Just a smidge."
Fantastic Beasts and Where to Find Them: Illustrated Edition
by J.K. Rowling
The text is required reading at Hogwarts and, in addition to the beautiful illustrations, this version of Fantastic Beasts features six new (North American) creatures and a new foreword by J.K. Rowling as Newt Scamander. Not sure how "no peeking" applies if you have a magical eye … (indigo.ca, $45)
"I'll have what she's having."
Eat What You Watch: A Cookbook for Movie Lovers by Andrew Rea
If you have some budding MasterChefs under your roof who aren't quite old enough to see some of your favourite movies, introduce them to recipes inspired by those films instead. Enjoy an orgasmic New York-style deli sandwich or pasta with prison gravy and meatballs without the neurotic relationship or doing a year for contempt. (amazon.ca, $25)
"Tales there be plenty …"
Disney Pirates: The Definitive Collector's Anthology by Michael Singer
Actually, dead men do tell tales; lots of them, in fact. Walt Disney's belief that pirates were a great source of entertainment — starting with Treasure Island and Peter Pan — has led to more than 90 years of Disney film, television, and theme park history. (indigo.ca, $50)
Pair the book with the Pirates of the Caribbean: Dead Men Tell No Tales Blu-ray so they can show off what they've learned.
Corinne McDermott is the editor of Movie Entertainment.