Paradise Found in the Bahamas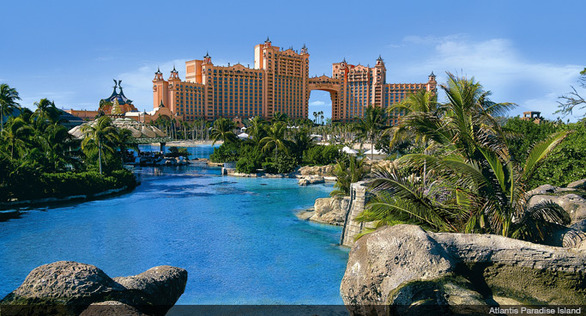 Find out what Wonder Woman, Gilligan's Island, James Bond, and the Pirates of the Caribbean all have in common...
The chain of islands known as the Bahamas is hardly a hidden gem or off-the-beaten-path vacation destination. For decades, it's been the go-to spot for both Hollywood and even "real" royalty, as well as for sports and music stars and high rollers from around the world.
But we common folk can rub shoulders with the rich and famous at Nassau's Straw Market or along Paradise Island's miles of white sand beaches. And with more than 300 days of sunshine annually, the place practically guarantees you a warm respite from our impending cold and snow. It's no wonder the Bahamas is a movie and TV location favourite.
Lots of celebrities call the Bahamas home, at least part time anyway. And we're not talking a time-share or even a vacation villa. The Bahamas consists of more than 700 islands, of which 30 are inhabited, and a handful are private islands owned by superstars. Mariah Carey, Eddie Murphy, and Nicolas Cage all own private islands. Johnny Depp bought one (and recently had his wedding there) after filming the Pirates of the Caribbean movies nearby.
But if a private island is not in the budget this year, a trip to Paradise Island might be. What was once known as the original home of Wonder Woman and her sister Drusilla (from the '70s TV show, of course) is actually where some of the Bahamas' most exclusive resorts are, but also some affordable, family-friendly hotels as well.
The most famous guest of the One&Only Ocean Club is likely Daniel Craig as James Bond (in Casino Royale), but frankly, I'm not certain an officer in the British Secret Service could swing the $7,950 (and up) per night for Villa #108 (#1085 in the movie). But just west of Ocean Club is the mecca known as Atlantis, with its six hotels, 21 restaurants, two beaches, 141-acre waterpark, and marine habitat and adventures.
Aficionados of '90s TV will recognize Atlantis as the honeymoon destination of Monica and Chandler on Friends, but the resort also features prominently in Mary-Kate and Ashley Olsen's big-screen adventure Holiday in the Sun, as well as in After the Sunset with Pierce Brosnan and Salma Hayek.
Just next door to Atlantis is the Comfort Suites Paradise Island, where guests enjoy complimentary full access to Atlantis facilities. Saving on accommodation could mean splurging on a meal at Nassau's five-star Graycliff Hotel, where many Hollywood hotshots plus British aristocracy like the former King Edward VIII and Sir Winston Churchill have enjoyed dinner and cigars. Or perhaps plan a snorkel trip to the Rose Island Reefs. Not only can you swim alongside tropical fish and a stunning array of elkhorn coral, but you'll have a great view of Sandy Cay, which you might recognize as the "real" Gilligan's Island.
Don't Miss:
Pirates of Nassau Interactive Museum
No Captain Jack Sparrow here; this museum features displays and collections of tableaux that tell (in some cases, quite brutally) the real stories of piracy and famous pirates of the Caribbean. A thriving community was built around stolen goods and pirates' treasure, and the museum's mix of history and entertainment allows for a fun couple of hours of learning.
Heritage Museum of the Bahamas
Located in Nassau's historic Mountbatten House, on display here are more than 1,000 artifacts that tell the story of the Bahamas — beginning with the indigenous Lucayans and on to slavery and piracy, colonialism, whaling, race car driving, and clippings from when the Duke and Duchess of Windsor (the former King Edward and Wallis Simpson) were "banished" to Nassau during World War II. Hope for Miss Morris as your tour guide; she is lovely.
Corinne McDermott is the editor of Movie Entertainment.