Movies with Pride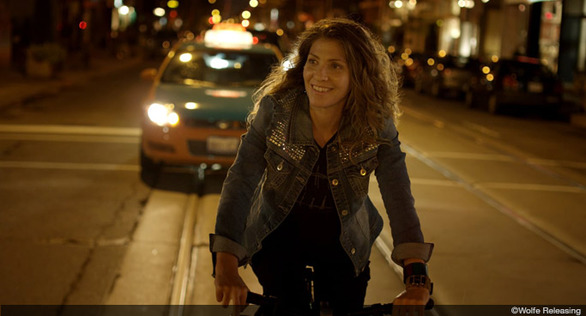 Sometimes, the lack of a weighty social-issue message in a gay-themed movie … is the message.
It's not about coming out, it's not about a person — it's just a ride.
Portrait of a Serial Monogamist is a gay movie without a message.
The acclaimed Canadian rom-com about a commitment-phobe who ditches her longtime girlfriend to pursue a younger woman doesn't aim to make a statement — it's merely designed to elicit a few laughs.
"We were trying to make something that's more authentic-relationship-based than fantasy-based," explained co-director Christina Zeidler, who was inspired by the John Cusack comedy High Fidelity. "It's not about coming out, it's not about a person — it's just a ride."
In truth, very few films set in the LGBT community have been made without an agenda or, at the very least, a key social issue at play. Indeed, it's surprisingly rare to find a mainstream film simply set in the LGBT world.
"We wanted to make something that just had characters who happened to be part of that community," said Zeidler's directing partner, John Mitchell. "[And] showing gay as a non-issue makes it kind of an issue film in a sense."
In tribute to Pride Month, we take a look at a few other mainstream movies without an overt political motive but which, instead, simply aim to celebrate LGBT pride.
The Kids Are All Right (2010)
Lisa Cholodenko's Oscar-nominated drama starred Julianne Moore and Annette Bening as two matriarchs making their best attempt to welcome the biological father (Mark Ruffalo) of their children into the family. While Cholodenko captures the comedic flaws of an uncommon household, the movie's true spirit consists in scrutinizing all family dynamics with optimism and openness, and showing that kids can truly turn out all right with two moms.
To Wong Foo, Thanks For Everything! Julie Newmar (1995)
Patrick Swayze, Wesley Snipes, and John Leguizamo play drag queens who set out on a road trip from New York to Hollywood in this $30-million big-screen comedy. Decked out in flamboyant dress, the three find themselves stuck in rural America, where they soon challenge the stereotypes held by local townsfolk. Although some scenes may seem garish today, the movie stood up as a positive influence on the portrayal of gay men in mainstream Hollywood at a time when movies were mostly consumed with telling dark tales involving the AIDS epidemic.
Brokeback Mountain (2005)
With eight Oscar nominations (including one for Best Picture), Ang Lee's storied drama is possibly the most mainstream movie featuring LGBT characters. After all, while the tragic tale does track a lifelong clandestine love affair between two macho ranchmen, nevertheless, as Austin Chronicle reviewer Marjorie Baumgarten wrote, Brokeback Mountain is no more a gay cowboy movie than "King Kong is a love story between human and simian." Instead, Jake Gyllenhaal and Heath Ledger's complex characters resonate as people who are as heartbreaking, everyday and empathetic as Romeo and Juliet.
Bound (1996)
Before the Wachowski siblings created the Matrix blockbuster film franchise, the talented directing duo broke out with this comedic crime caper about two lesbian lovers on the run from the mob. A scintillating thriller, the movie never makes a statement about Jennifer Tilly and Gina Gershon's onscreen lesbian relationship but instead spotlights the Mafia story's many twists. Of course, the movie's gender politics carry more weight in retrospect, knowing that the filmmaking brothers who made it were transgender and have both become women since then.
Dog Day Afternoon (1975)
Based on a true story, this film saw Al Pacino take on the role of a brash New Yorker who held up a bank in order to raise the money for his lover's sex-change operation. While it may not exactly paint its protagonist in a positive light (he was a criminal, after all), director Sidney Lumet's intense hostage drama embraces the facts of the case and objectively presents gay pride during a decade when Hollywood would hardly touch stories about the LGBT community.
Honorable Mentions:
My Beautiful Laundrette (1985)
Filmmaker Stephen Frears (High Fidelity) follows a pair of working-class Brits — including Daniel Day-Lewis in an early role — who fall for each other while refurbishing a decrepit coin-operated laundromat.
Transamerica (2005)
Desperate Housewives star Felicity Huffman earned an Oscar nomination playing a transsexual who learns that the estranged son she fathered is now a teenage runaway living on the streets of Manhattan.
Freeheld (2015)
Julianne Moore portrays a real-life New Jersey cop who, after finding out she was terminally ill, battled to get her pension transferred to her domestic partner (played by Ellen Page).
The Danish Girl (2015)
Eddie Redmayne picked up an Academy Award nomination in this fictionalized love story about real-life artists Gerda Wegener and Lili Elbe as the latter undergoes one of the first attempts at gender reassignment surgery.
My Own Private Idaho (1991)
Before directing Good Will Hunting, Gus Van Sant cast Keanu Reeves and the late heartthrob River Phoenix as two hustlers exploring the American countryside in a loose reimagining of Shakespeare's Henry IV and Henry V.
Steve Gow is a Toronto-based entertainment writer and editor of StrictlyDocs.com.