Inspirational Celebrational Muppets: Vaudeville with pigs and chickens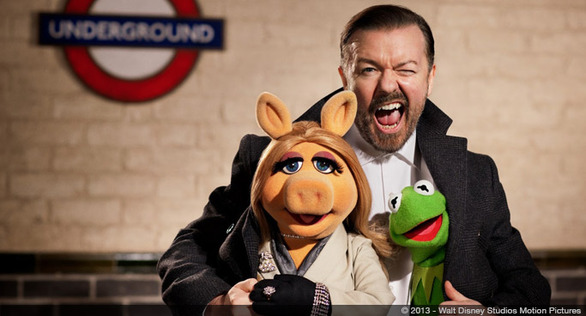 After the death of Joan Rivers in September, timelines were flooded with hilarious clips of the caustic comedienne in action. Many viewers of a certain vintage have a special fondness for a scene that Rivers shared with a diva we all treasure just as dearly: Miss Piggy.
In 1984's The Muppets Take Manhattan – the third of the movie adventures for Jim Henson's anarchic crew — the two ladies are working at the makeup counter in a fancy department store. When Miss Piggy arrives after a tiff with Kermit, Rivers asks what's got her so upset. "My frog turned on me," says the porcine glamour queen.
"Yeah," says Rivers, grimacing as she touches her stomach, "I had some bad tuna myself."
Determined to cheer up her co-worker with a makeover, Rivers starts by adding some rouge but is soon busy putting scrawls and splotches all over both their faces. Then the powder puffs start flying, much to the consternation of the manager, who promptly fires them.
Besides being a terrific showcase for Rivers, the scene has many of the things that Muppets maniacs have come to expect: hokey jokes, goofy slapstick, an opportunity for anarchy, and a big-name non-puppet star who's not afraid to get upstaged by a saucer-eyed hunk of foam. It's a recipe that not only has served them well, but also connects them to the decidedly old-school brand of musical-comedy entertainment that might have disappeared from circulation if not for their efforts.
Thankfully, the team behind the Muppets have stuck to that recipe in the two movies that have arrived since 2008, when Disney rebranded the franchise and introduced them to a new generation. A sure-fire crowd pleaser when it was released in 2011, The Muppets saw Henson's creations return to the big screen alongside Jason Segel, Amy Adams, and a roster of guest stars that included Jack Black, Whoopi Goldberg, and Canadian singer Feist.
They returned this year with a sequel that – Muppets being Muppets, after all — opens with the whole gang singing a song called "We're Doing a Sequel." (Sample lyrics: "Let's give it a shot / All we need now is a half-decent plot.") In addition to folks like Ricky Gervais as the gang's shady new manager and Tina Fey as the warden of a Russian gulag where Kermit is trapped, there's room for great bits by such non-puppet guests as Lady Gaga, Christoph Waltz, and – in what might be Miss Piggy's greatest teaming since her time with Joan Rivers – Céline Dion.
One of the best things about Muppets Most Wanted is that it doesn't have to worry so much about the Muppets' storied legacy and uncertain status in the present, which were major concerns for co-writers Segel and Nicholas Stoller in its predecessor. Instead, like The Muppet Christmas Carol – a very merry spin on the Charles Dickens classic that's been a holiday perennial since 1992 — it's all about the goofball gags, cringe-inducing puns, and high-octane antics. We're talking about the traditional array of cream pies in faces, painfully stale one-liners from Fozzie Bear, and chickens getting blown out of cannons. Of course, Gonzo the Great wouldn't have it any other way.
On a slightly more serious tip, the Muppets perform a very valuable service in cultural terms. That's because their old-school style of hijinks has less in common with the more ironic, grown-up-flattering humour that's prevalent in the hits of Pixar and DreamWorks than it does with the values of an earlier tradition. If you're looking for the real inspirations for Miss Piggy, Animal, and Rowlf the Dog, you have to head back nearly a century to the golden age of vaudeville, when theatres and music halls came alive with performers like Jimmy Durante and the Marx brothers.
Assuming the mantle of longtime Muppets music-maker Paul Williams – a man who's still cool enough to show up on a Daft Punk album – Bret McKenzie has certainly risen to the challenge with songs like "We're Doing a Sequel" and Muppets Most Wanted's disco spectacular "I'll Get You What You Want." Academy Award voters must agree, since they gave McKenzie an Oscar for the song "Man or Muppet?" (The most memorable answer to that musical question: "If I'm a Muppet, then I'm a very manly Muppet.")
Really, the only sad thing about the present situation for The Muppets is that we can't expect a reunion with Joan.
Jason Anderson writes about movies for Cinema Scope, FFWD, and the Toronto Star.