What's the Craic, Northern Ireland?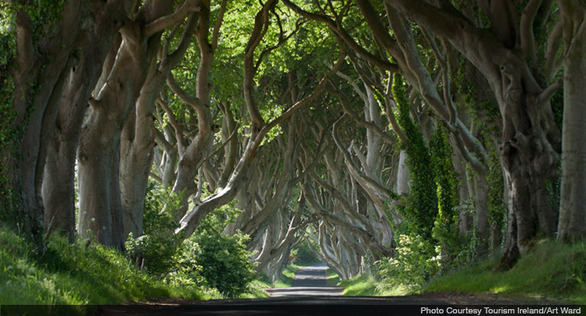 See why Norn Iron > Valyrian Steel in majestic Northern Ireland.
Powerful, moving, startling, and striking are all words I would use to describe both the show and the land that serves as most of Westeros.
Game of Thrones' Kit Harington (Jon Snow) has some explaining to do. During an appearance on Late Night with Seth Meyers, he was less than complimentary about Belfast, which is essentially Game of Thrones' headquarters. "They have a wonderful tourist board, they celebrate three things: Having the most bombed hotel in Europe, which is great. They built the Titanic, which is a ship that sank on its maiden voyage; and now they have Game of Thrones, the most depressing TV show in history. "So it's a wonderfully depressing tourist board."
Having visited Northern Ireland, I couldn't disagree more with Harington. I stayed at the Europa Hotel in Belfast, which does hold the distinction of being the most bombed hotel in Europe. It is also super clean with friendly staff, comfy beds, and a full Irish breakfast that made me the opposite of depressed each morning.
I found the Titanic Belfast Experience to be fascinating and stirring and heartbreaking. Not depressing.
Maybe Harington doesn't actually watch the show he stars in, because I would never classify Game of Thrones as depressing. And Belfast and Northern Ireland certainly aren't either. Powerful, moving, startling, and striking are all words I would use to describe both the show and the land that serves as most of Westeros.
But most of all, it's inspiring to see how the film industry has invigorated the tourism industry in a country that made headlines for more troubling reasons just 20 years ago.
Tourism Ireland and the local websites for both Visit Belfast and the Causeway Coast and Glens offer information and self-drive itineraries and maps for visiting key Game of Thrones locations. Large tour companies and many independent guides offer group or individual tours as well. And the beauty of following a Game of Thrones-focused itinerary is visiting out-of-the-way locations you'd probably bypass in favour of bigger attractions, but they're on the list, too.
Tollymore Forest Park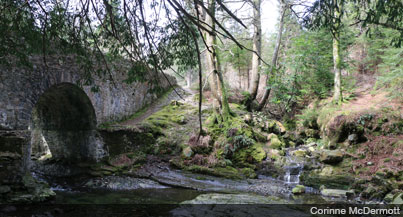 Just south of Belfast and at the foothills of the Mourne mountains sits Tollymore Forest Park — aka where White Walkers massacred members of the Night's Watch in Season 1, Episode 1, as well as where the Stark family discovered the Direwolf pups, and where Tyrion schooled Jon Snow with, "The mind needs books like a sword needs a whetstone." Hike easy trails alongside Irish families enjoying the greenery, or mount a trusty mountain-bike steed and discover the filming locations on a self-guided route provided by Clearsky Adventure Centre, an activities and adventure company run out of the real-life Winterfell.
Castle Ward in County Down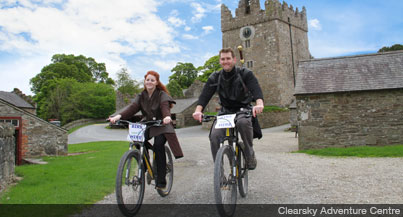 With the help of some CG technology, Castle Ward is Winterfell, and these acres of gardens, forest, and buildings are preserved by the U.K.'s National Trust, and stand in as the castle yard and tower where Bran Stark catches Jaime and Cersei Lannister in flagrante. Clearsky again facilitates hikes and self-guided bike tours along "Robb's Trail" — where Brienne confronted the Stark men after tying Jaime Lannister to a tree and where Robb Stark's camp was located — or "Tywin's Trail," which features the Lannister camp location as well as the Baelor Battlefield. Don't miss the Archery Movie Set Experience: Dress up in costume, and learn archery using ancient bows and arrows in the same spot the Stark boys practised theirs. I actually shot a bull's eye.
The Glens of Antrim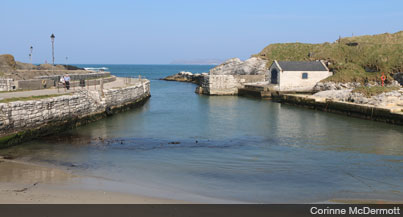 The stunning scenery of rugged green hills against the sapphire Irish Sea would be worth a stop regardless, but this area along the northeast coast that encompasses Cairncastle, Glenarm, Cushendun, Ballycastle, and Ballintoy is bursting with key GoT locations. The glens near Cairncastle are where Ned Stark taught his boys "justice." Steensons Jewellery in Glenarm creates much of the show's jewelry on-site, including Joffrey's crown and Sansa's infamous necklace. The Caves of Cushendun are where Melisandre gave birth to the shadow figure — it's quite chilly and creepy in there despite the beautiful surroundings. Ballycastle is home to Larrybane — the site enclosed by limestone cliffs where Brienne of Tarth defeats Ser Loras in a swordfight. It's also a spillover parking lot for the famous Carrick-a-Rede rope bridge. And Ballintoy Harbour is a picturesque inlet where Irish families gather to enjoy nice weather and the delightful tea room nearby. You'd never guess it's also the grim Lordsport Harbour of the Iron Islands.
The Dark Hedges of Ballymoney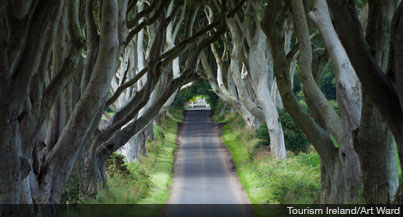 These 200-year-old beech trees were already popular pre-Game of Thrones; they're supposedly haunted by the "Grey Lady" who comes out at dusk, and were a popular wedding photo location. Now, newlyweds would be hard-pressed to get a shot without a "Thronie" in the background, ever since The Dark Hedges became the King's Road where Arya Stark escaped King's Landing.
McComb's Tours is Northern Ireland's largest group tour company, with a number of Game of Thrones itineraries, or an independent guide like Dee Morgan of Dee Tours Ireland can offer a custom experience that incorporates more of the area in addition to Game of Thrones locations.
Don't miss:
Down Cathedral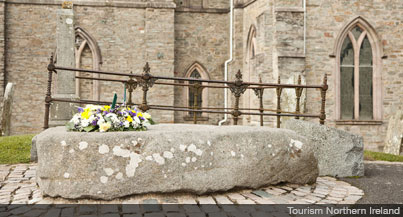 On the way from Tollymore Forest to Castle Ward, stop at Down Cathedral in Downpatrick to visit the final resting place of St. Patrick. It's not every day you can pay your respects to a country's patron saint.
Giant's Causeway
Just east of Ballintoy Harbour is the Giant's Causeway, Northern Ireland's first UNESCO World Heritage Site, which combines a fascinating natural wonder with a famous Irish legend. This was a location for the movie Dracula Untold, but there's also a Game of Thrones connection. The audio guides are narrated by local actor Conleth Hill, aka Varys.
Belfast Harbour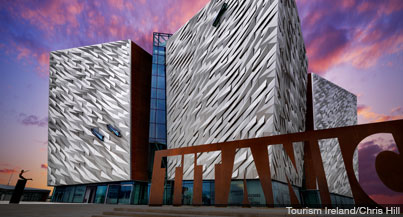 While there are no tours of Titanic Studios, where the non-location scenes of Game of Thrones are filmed, the area is rich with history, including SS Nomadic Belfast, White Star Line's last remaining vessel, and the landmark cranes known as Samson and Goliath. The Titanic Belfast exhibition is an absolute must-visit.
Corinne McDermott is the editor of Movie Entertainment.