Octavia Spencer: Blast from the Past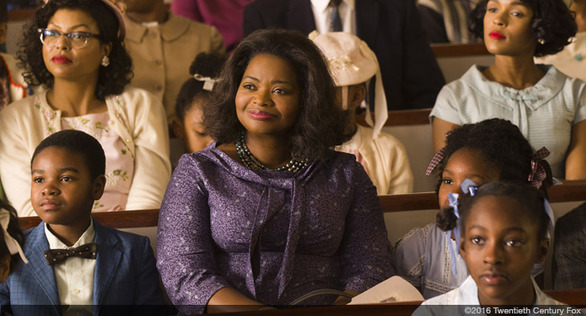 In Hidden Figures, Octavia Spencer offers another valuable history lesson...
"I'm really hopeful that after seeing this story, there will be girls in the world who will realize just how much value they have."
Octavia Spencer achieved star status and an Academy Award for her performance as Minny Jackson in The Help, 15 years after making her movie debut in A Time to Kill. The uniquely timeless quality that makes her a perfect fit for period drama is on display again in Hidden Figures, the story of three African-American women who made an enormous — and largely unheralded — contribution to the U.S. space program in the early '60s.
Although Spencer's latest triumph is set several decades in the past, she believes its true impact has yet to be felt. "The beautiful thing of looking back at history, as this film does, is contemplating how we can influence the future," she told London newspaper The Telegraph. "I'm really hopeful that after seeing this story, there will be girls in the world who will realize just how much value they have."
Given all the praise and awards that Spencer's historical dramas have earned, it's easy to overlook the challenges involved in these productions. For one, there is a great deal of disagreement about the way movies should approach America's troubled racial history.
Even before The Help was released, Spencer and co-star Viola Davis received criticism for agreeing to play maids and speak lines that a white author (Kathryn Stockett) wrote in an African-American dialect. Spencer wrestled with these issues, but ultimately embraced Minny's proactive nature, her commitment to change, and the novel's authentic portrait of class conflict.
Spencer contends that period films like The Help and Hidden Figures perform an important function, raising awareness about her country's history of racial injustice and the overlooked triumphs of African-Americans. In fact, her own education on race owes a great deal to movies. When Spencer was 17, she had virtually no knowledge of the American civil rights movement, but that all changed when she saw Eyes on the Prize, a PBS documentary suggested by her mother. As Spencer sees it, films like The Help and Hidden Figures offer a similarly eye-opening education to a much larger audience.
"And I thought, 'OK, well, that's historical fiction, because [if it were fact] I would know that story.'"
In the case of Hidden Figures, this education is particularly necessary, as so little is known about the film's three central characters: mathematicians Mary Jackson (Janelle Monáe), Katherine G. Johnson (Taraji P. Henson), and Dorothy Vaughan (Spencer).
When Spencer first heard about the project, she didn't even realize it was based on a true story. "I thought it was historical fiction like The Help," she told British daily The Guardian. "You know, your agent always sends you a little teaser blurb: 'You'll be meeting with Donna Gigliotti about her upcoming project about three black female mathematicians, who helped get our astronauts into space.' And I thought, 'OK, well, that's historical fiction, because [if it were fact] I would know that story.' "
But Spencer didn't know that story, a fact that helped her recognize the film's importance. Once aware of Vaughan's lack of recognition, Spencer felt responsible for publicizing her legacy. After all, Hidden Figures is likely to be the first that many people hear about this distinguished American. With that in mind, Spencer made it a priority to convey the integrity and selflessness she discovered in her research about Vaughan. (According to Monáe, Spencer disappeared so completely into the role that she displayed many of Vaughan's traits during the shoot, even when the cameras weren't rolling.)
Feeling validated by Hidden Figures' worldwide success and three Oscar nominations (including one for Spencer as Best Actress in a Supporting Role), the actress is looking toward the future with a continued interest in the past.
In December, she will return to the '60s for Guillermo del Toro's The Shape of Water, and she is also developing a biopic about Madam C.J. Walker, a wealthy African-American entrepreneur described as the first female self-made millionaire in the United States. But even as she explores these chapters in U.S. history, she is distracted by a modern concern that has been conspicuously missing from her period movies: her own personality.
Spencer has always played characters that she believes and understands, but the lives of these people bear little resemblance to her own — and that departure can be extremely painful. This might explain why, in spite of her success with historical dramas, Spencer hopes to take a break from the past and spend a little more screen time in the present.
"Period movies are very tough for me because black women in period movies usually have a tough time," she told the Denver Post, recognizing the emotional toll that her biggest successes have taken. "I'm going to give myself a break from that and do something fun — for me."
Jonathan Doyle writes about movies for Comedy, CTV, and Space.