For Those About to Rock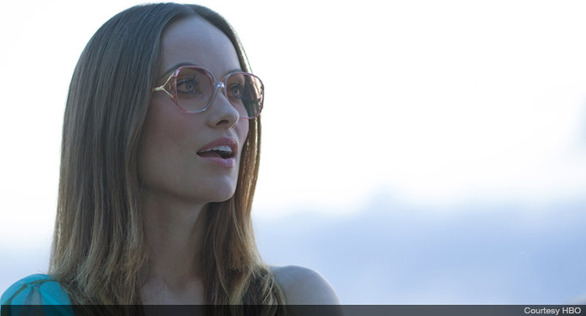 In Vinyl, Olivia Wilde joins Martin Scorsese, Mick Jagger, and Terence Winter for an exhilarating tour of the New York music world of the 1970s...
New York was a very different kind of place.
Before Disney cleaned up Times Square and before the meatpacking district replaced its abattoirs with clubs and bistros, New York was a very different kind of place. It sure wasn't pretty, what with the rampant crime, homelessness, and other signs of the city's seemingly imminent collapse into chaos and insolvency throughout the 1970s. But for the artists and musicians willing to endure the dangers, it was a remarkably fertile zone of creativity, one where you could reinvent yourself in whatever way you liked.
Nowhere was this truer than in the music scene, with New York serving as the birthplace for innovations that would soon rock the world. As disco flourished in Manhattan hotspots like Studio 54, the raw new sounds of punk and hip hop began to spring up in scuzzier clubs in the East Village and grittier corners of the Bronx.
It's easy to see why there's no other place Olivia Wilde would rather be right now, even if this era was long gone by the time she was born. Along with viewers, the 31-year-old actress can travel back thanks to Vinyl, a new series she describes as "at once extremely intense and sexy and emotional and hilarious." The first season begins this month on HBO Canada.
The project unites the team of creator and showrunner Terence Winter, his Boardwalk Empire director and exec-producer Martin Scorsese, and a bona fide rock legend named Mick Jagger. The Rolling Stone certainly knows the terrain, having been a regular at both Studio 54 and CBGB's, the far less ritzy club that launched the Ramones, Blondie, and the Talking Heads. He and Scorsese originally hatched the idea of a no-holds-barred music-biz saga during the making of the director's 2008 Stones doc Shine a Light. Continuing his collaboration with Scorsese on Boardwalk Empire and The Wolf of Wall Street, Winter came on board for a small-screen incarnation.
Wilde's another natural pick for the show, partially since she has her own history with Jagger. Indeed, she met him as a child when he came to a dinner hosted by her socially connected family in Washington, D.C. As she recently told an interviewer, "I came in and demanded that he get off my chair. He told me to go to bed, which was hilarious at the time, even more hilarious now that he's my boss."
On Vinyl, the former House star plays Devon Finestra, an actress and model who was once a member of Andy Warhol's circle but is now the troubled wife of Richie Finestra, an ambitious record company boss played by Bobby Cannavale. Together, they face the mounting business pressures on Richie's label as well as all the temptations of the rock-star lifestyles that surround them. The cast also includes Ray Romano as Richie's mobbed-up partner, Juno Temple as an ambitious A&R assistant, and Andrew Dice Clay as a radio mogul.
What with the new popularity of movies and TV shows with music-biz settings (Straight Outta Compton and Empire were two huge hits), the timing couldn't be better for a guided tour of New York's hardest-rocking '70s demimondes. It also demonstrates Wilde's eagerness to demolish expectations about who she is as an actress. After all, her breakthrough stints on The O.C. and House emphasized her beauty rather than her talent. Hollywood did the same with under-performing movies — like Cowboys & Aliens, Tron: Legacy, and In Time — that too often treated Wilde like part of the scenery.
Unsurprisingly, she got better chances to show her skills in indie movies like director Joe Swanberg's relationship comedy Drinking Buddies and the thriller Deadfall. Last year, she got the best reviews of her career for Meadowland, a raw drama in which she and Luke Wilson play a married couple who fall to pieces after the disappearance of their son.
As Wilde said in another recent interview, "I do agree that in the last few years I've hit my stride, and for me, that comes from operating from a place of inspiration versus desperation. I find the material you get as you get older is better. … Early on, you're just the girlfriend, or the pretty girl, or the mean girl."
Clearly, what excites her now is roles like Devon Finestra, a fast-living wife and mother who finds herself neck-deep in a "personality crisis," to borrow the title of the New York Dolls song that practically has its own starring role on Vinyl.
It's no wonder she sounds so thrilled to be part of a show that she believes has "the Terry Winter brilliance all over it" and elicits the same visceral excitement as Scorsese's best. As she told a journalist during the series' New York shoot last fall, "Think of Goodfellas — you cried, you laughed, you wanted to throw up. There are all these intense emotions connected to it and I think that is the same as Vinyl in many ways."
Music-biz vets anticipate sex, drugs and rock 'n' reality
Vinyl has all the noisy guitars and sleazy excess that viewers expect. But with Mick Jagger on board, it'll also be closer to the truth than other movies and TV shows set in the music business. Two veterans of the Canadian music industry would be happy to get a little more realness.
"Everyone just thinks the business is just sex and drugs and rock 'n' roll," says Cameron Carpenter, a longtime A&R man, manager, and publicist for companies like BMG. "They think it's this romantic, glamorous lifestyle, with people flying around on private jets. It doesn't happen like that in real life."
John Kastner, the former frontman of Montreal alt-rockers the Doughboys who now manages bands and programs for Canadian Music Week, describes most portrayals as "super cheesy."
"You always see the roadies high-fiving and hugging each other before the band hits the stage. Or there's the dorky A&R guy or the overzealous manager. I wish they'd have more imagination when it comes to these things."
Cameron is hopeful about Vinyl's verisimilitude, not just because of the Jagger connection but because it has consultants like Nirvana manager Danny Goldberg and Nigel Grainge, who discovered Sinéad O'Connor. Otherwise, he points to Almost Famous, American Hot Wax, and Control as movies that got close to the mark. Kastner recommends the Canadian music flicks Hard Core Logo and Suck, a rock 'n' roll vampire movie that starred Kastner's actress girlfriend, Jessica Paré.
Both vets believe Vinyl's makers are better off revelling in the industry's glory days rather than presenting the humbler, post-Napster incarnation of today. "There is no money now," says Kastner. "So if you want to write about today's music business, it'd be a pretty boring TV show!"
Jason Anderson writes about movies for Cinema Scope, FFWD, and the Toronto Star.