Blast Off! Space-inspired Family Vacation Ideas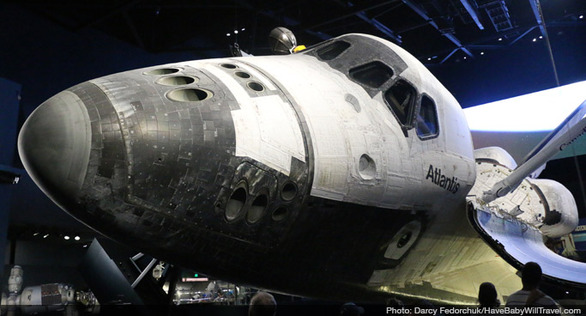 Outer space-inspired family adventures that don't involve travelling to a galaxy far, far away…
Last year it was Star Wars: The Force Awakens. Now it's Rogue One: A Star Wars Story. And this year's scheduled sci-fi releases, from Guardians of the Galaxy Vol. 2 to Alien: Covenant and more, are sure to inspire more kids to look up at the sky in a new way. If you think you have a budding astronaut on your hands, these vacation ideas might be just the ticket.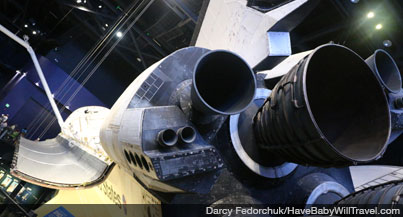 Orlando, Florida
You might already have a trip to Orlando, Florida, planned for this year. In which case, the Kennedy Space Center Visitor Complex is a must-visit. Even kids who've been immersed in all things Disney, and grown-ups who thought they weren't all that interested in space travel (ahem), will be amazed and inspired by this incredible facility. Do the bus tour first; it gives a brief background on everything NASA while touring the launch sites, then drops you off to learn and experience the Apollo programs. Plan to spend an entire day here, and don't miss the Shuttle Launch Experience. (KennedySpaceCenter.com)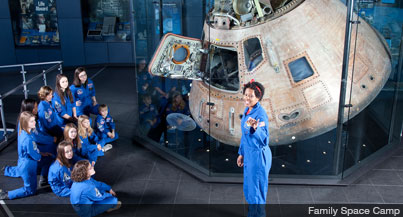 Huntsville, Alabama
Alabama might not be the first place you think of when it comes to space exploration, but Huntsville is nicknamed "Rocket City" and is home to NASA's Marshall Space Flight Center, currently developing the Space Launch System to explore deep space. The U.S. Space & Rocket Center serves as the official NASA Visitor Center for Marshall Space Flight Center, and runs year-round Space Camp programs for kids ages seven and up. Families can get in on the fun with three- and four-day Family Space Camp packages that include simulated mission training and operations, rocket construction, and on-site space history with one of the world's largest spacecraft collections. Meals are included, and families stay on-site in bunks or have the option of heading to the Huntsville Marriott on the campus of the U.S. Space & Rocket Center. (SpaceCamp.com)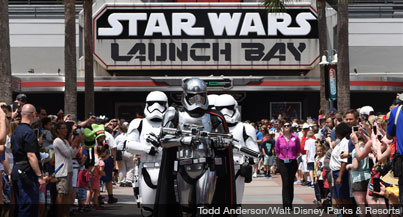 You knew as soon as Disney bought the Star Wars franchise that it wouldn't waste time in integrating the stories and characters into its theme parks and vacation properties. Every year it adds and improves Star Wars-themed attractions and experiences at Disneyland and at Walt Disney World's Hollywood Studios that will ultimately become individual Star Wars Land parks at both locations. And from now until April, this year and next, select sailings on Disney Cruise Lines' Disney Fantasy will feature a Star Wars Day at Sea, with a deck party and photo opportunities with franchise characters, an onboard version of the Jedi Training Academy, and screenings of the films. But let's not forget the classic space offerings at both Disney theme park resorts. Tomorrowland is still a staple at California's Disneyland and Florida's Magic Kingdom. And also in Florida, Epcot's Mission: Space simulates what an astronaut might experience on a mission to Mars. I stuck to the "Green" level of intensity, but if you can handle spinning, go for Team Orange. (DisneyParks.com)
Maybe you don't necessarily want to get on a plane before simulating a trip to outer space. These spacey spots are a little closer to home:
Best Western Fireside Inn, Kingston, Ontario
Kingston is probably best known as the home of the Kingston Penitentiary, or maybe Queen's University, or possibly Fort Henry. Maybe you know it best as the gateway to the Thousand Islands. But it's also where you can spend a night on the moon. Cuddle up in your lunar lander, complete with a tethered astronaut floating overhead. (BestWesternKingston.ca)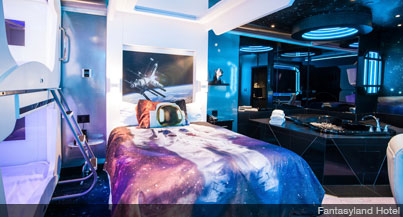 Fantasyland Hotel, West Edmonton Mall, Edmonton, Alberta
If you feel like blasting off to the moon after spending a day shopping, it's time to head to Edmonton to see how much fun it can be. West Edmonton Mall's Fantasyland Hotel has some themed hotel rooms, including a space-themed one that features two 75-inch TVs with rotating projections of space, and capsule bunk beds for tucking in your mini moonwalkers. (Fantasylandhotel.com)
Corinne McDermott is the editor of Movie Entertainment.