Pandora: The World of Avatar Reaches for the Moon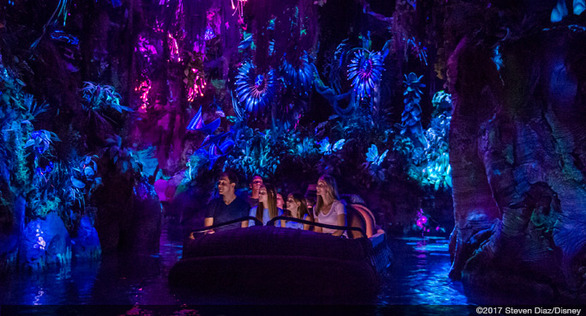 Explore the astonishing new rides and dream world (ahem, exoplanetary moon) at Walt Disney World's Animal Kingdom...
"This is, quite literally, a dream come true."
Director James Cameron revealed this spring that the scripts were written and production would "officially" begin Sept. 25 on the first two of four (!) Avatar sequels, with Avatar 2 set for a December 2020 release.
If your Na'vi is a bit rusty and the 11-year wait to return to Pandora has left you bioluminescence-deficient, don't despair. Walt Disney World's Animal Kingdom in Orlando, Florida, has created a real-life version of James Cameron's dream world (ahem, exoplanetary moon).
In May, the first visitors officially descended onto Pandora's bioluminescent walkways, and marvelled at Disney's construction of a movie world that even the actors appearing in the blockbuster film hadn't experienced — the film's visual effects are the end result of years of technology development and advancement.
At the grand opening, Cameron said of Pandora: The World of Avatar: "This is, quite literally, a dream come true."
Pandora the park is set 100 years after Avatar. Unobtainium is no longer being mined, and visits are facilitated by Alpha Centauri Expeditions (ACE) in conjunction with another fictional organization, the Pandora Conservation Initiative (PCI), which is, according to Disney, "a collective of scientists, xenobiologists, and conservationists. From the plants and animals to the soil, water, and air, you'll find members of PCI researching every aspect of this mysterious and alien world."
Guests don't need Exo-Packs to breathe, and the newly developed 12 acres of Disney's Animal Kingdom Theme Park can be accessed with regular park admission. Pandora: The World of Avatar features the eatery Satu'li Canteen with Na'vi-inspired dishes served in a refurbished RDI mess hall, and two new rides: Avatar Flight of Passage and Na'vi River Journey.
On Avatar Flight of Passage, you fly through Pandora on the back of a banshee, figuratively and kind of literally. Disney has taken the motion-simulator ride experience to new levels with this attraction. Not only do you feel like you're soaring across oceans and swooping through forests, you also "feel" your banshee beneath you via your synched avatar. It's truly incredible.
The Na'vi River Journey is an It's a Small World-ish trip along the Kasvapan River, featuring Disney's most advanced animatronics to date. The beauty of the bioluminescent rainforests is the real draw here, and the Na'vi River Journey is a must-ride if you won't be able to experience Pandora at night.
It's only been in the past year that Animal Kingdom has stayed open past sunset, and now that's when the park truly comes to life. The Rivers of Light and Tree of Life Awakenings evening experiences are wonders of light and pictures and sound worth staying late for, and Pandora really lights up when the sun goes down. Literally everything glows — from the walkways to the flora and fauna — and with the addition of scents and sounds, it truly feels like another world (ahem, exoplanetary moon).
Now we know for sure that it'll be at least three years before we revisit Pandora on the big screen, so that's plenty of time to refresh your memory with a rewatch of Avatar and a trip to Walt Disney World, which you were probably already planning, right
Corinne McDermott is the editor of Movie Entertainment.