Not Just Another Pretty Potato Face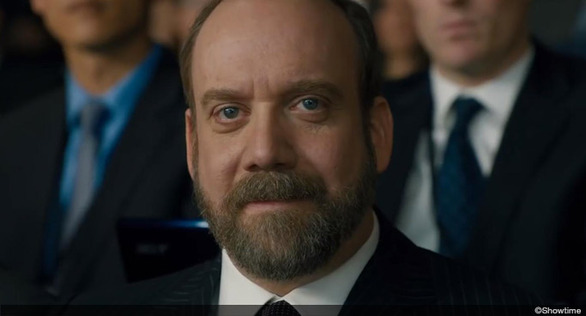 "I'm clearly not Brad Pitt, and I'm never going to be Brad Pitt."
Paul Giamatti's role as a tenacious prosecutor in the Showtime drama Billions is the latest in a brilliant career.
He's joked in the past about his "character actor" looks, telling one reporter that, "I'm clearly not Brad Pitt, and I'm never going to be Brad Pitt."
So he's a schlub. Brad Pitt should be so lucky. Despite his self-described "potato face," Giamatti has quietly and steadily built a resumé over the past 20 years that would be the envy of any actor.
He adds to that in the Showtime drama Billions. The 12-episode season has Giamatti's character — tenacious U.S. Attorney Chuck Rhoades — bulldogging the brilliant and ruthless hedge-fund king Bobby (Axe) Axelrod (Homeland's Damian Lewis).
"When did it become a crime to succeed in this country?" asks Axelrod. He basks in the kind of lavish Manhattan lifestyle that would make Donald Trump blush. Rhoades despises the showy Wall Street weasel and is determined to follow the money until he brings him down.
The characters are far more complex than the good guy/bad guy Wall Street showdown outline would suggest, and the two in-demand actors raise the stakes to the level of a prizefight. Says Lewis: "You'll see your preconceptions constantly challenged about who's good, who's bad, and what people are prepared to do to get what they want."
"I was really intrigued to be able to play one of the most powerful law enforcement officers on the planet," says Giamatti, who generally portrays men frustrated by their lack of power.
His character gets some juicy lines in Billions and Giamatti delivers them all with a whispery growl. One example that can actually run in a family magazine: "A matador doesn't kill a fresh bull. You wait until he's been stuck a few times."
Behind the series are producers Brian Koppelman and David Levien (Ocean's Thirteen) and acclaimed financial journalist Andrew Ross Sorkin (Too Big to Fail). Maggie Siff (as Rhoades' wife, Wendy), Malin Akerman, Toby Leonard Moore, David Costabile, and Condola Rashad round out the cast.
As an actor, Giamatti has visited this world of high finance before, especially in HBO's 2011 true-life tale of Wall Street greed and corruption, Too Big to Fail. The role brought Emmy and Golden Globe nominations.
Born in New Haven, Connecticut, Giamatti was the youngest of three children. His mother, Toni, acted a bit, and his father, Bart Giamatti, was president of Yale University and later became the commissioner of Major League Baseball.
Giamatti honed his craft at the Yale School of Drama alongside fellow students Ron Livingston and Edward Norton. Small roles on TV shows — such as "Man in Sleeping Bag" on NYPD Blue — followed.
A break came in 1997 when he landed the role of program director Kenny (Pig Vomit) Rushton in Howard Stern's Private Parts. Years later, Giamatti reminisced about the film on Stern's radio show, recalling that he had auditioned three times and made "10 grand" as his salary.
Bigger paydays followed. Giamatti has shone as a supporting actor in films as diverse as The Truman Show, Saving Private Ryan, Big Momma's House, Man on the Moon, Mighty Aphrodite, Planet of the Apes, and 12 Years a Slave. Lately, as he kidded with Jimmy Fallon on The Tonight Show, he's been typecast as "sleazy managers of bands" in the Brian Wilson biopic Love & Mercy as well as Straight Outta Compton.
He was nominated for a Best Supporting Actor Oscar for his role as a boxing manager in Ron Howard's Cinderella Man. M. Night Shyamalan, who directed him in Lady in the Water, called him America's "best living actor."
And not just in supporting roles. Critics raved about his starring performance as gonzo cartoonist Harvey Pekar in 2003's American Splendor. His role as frustrated author/wine-soaked road buddy Miles Raymond in Sideways drew a Golden Globe nomination.
Giamatti's career only went up after Sideways. He eventually won two Golden Globes as a lead actor: one as the second U.S. president in John Adams (a performance that also drew an Emmy) and the other in 2011 as the lead in author Mordecai Richler's Barney's Version.
On TV, Giamatti has appeared on everything from 30 Rock to Downton Abbey (where he was nominated for another Emmy) to Inside Amy Schumer. He was even the voice of Theodore Roosevelt in Ken Burns' PBS documentary The Roosevelts: An Intimate History.
Billions, however, is Giamatti's first series lead since the historical drama John Adams. He recently assured TV critics that he and Lewis are having a rollicking good time playing adversaries on Billions.
On talk shows, the 48-year-old comes across as very down to earth. He's like the neighbor you keep bumping into at Costco. Married with one child, living in Brooklyn Heights, New York, he's just as star-struck as anybody else, telling Fallon he was reduced to "a tiny little girl" when meeting Ice Cube on the set of Straight Outta Compton.
Not much, however, scares the character he plays in Billions. There, Giamatti turns into a relentless, truth-seeking justice missile with more going on beneath the surface than meets the eye.
Not unlike the actor himself.