Popstar VS. Popstars: Keepin' it Real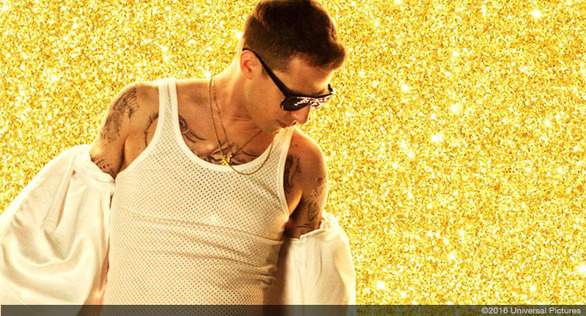 What with all the true-life follies of boy bands, rappers, and music-world celebs, the Lonely Island team had no lack of inspiration for their hilarious spoof Popstar: Never Stop Never Stopping...
Even the wildest gags might be only slightly more ridiculous than the truth.
Let's hope that the music world's bona fide superstars learn some lessons from Conner4Real. Such as, don't bring a pack of hungry wolves to your would-be-romantic wedding proposal. Nor promote your album by having it blast out of home appliances. Nor brag about how awesome you are in a song called "I'm So Humble." (Sample lyrics: "The thing about me that's so impressive / Is how infrequently I mention all of my successes.")
Really, don't do just about anything done by Conner4Real, the character played by Andy Samberg in Popstar: Never Stop Never Stopping. This hilarious spoof could only be the handiwork of the Lonely Island, the comedy team behind "Dick in a Box," "I'm on a Boat," and other viral sensations created while Samberg was a cast member of Saturday Night Live.
Samberg's teammates, Jorma Taccone and Akiva Schaffer, also appear as members of the Style Boyz, the hip-hop trio that Conner jettisoned to become a solo sensation. If that career move sounds familiar, it should — a big part of the fun is spotting the real-life inspirations for the saga of Conner's meteoric rise and fall. Even the wildest gags might be only slightly more ridiculous than the truth.
Popstar: Never Stop Never Stopping further blurs the line between fact and fiction by including cameos by luminaries like Adam Levine, Snoop Dogg, and Mariah Carey. Here are some of the boy bands, rappers, and other music superstars who ought to see themselves in Conner4Real:
*NSYNC
By rising to superstardom after splitting from a successful group, Conner follows the trajectory of a certain former member of the boy band that tore up hearts at the turn of the millennium. And no, I don't mean Joey Fatone — it's gotta be Justin Timberlake. Of course, Samberg's "Dick in a Box" buddy Timberlake is in on the joke, appearing in Popstars as Conner's personal chef. In another nod to *NSYNC, Conner's manager (played by Tim Meadows, another SNL vet) fosters competition with his own act by pitting him against up-and-coming rapper Hunter the Hungry. Boy-band kingpin Lou Pearlman did much the same by backing both *NSYNC and Backstreet Boys. To be fair, Conner's manager is not half as sleazy as Pearlman, who died last year while serving a lengthy prison sentence for business dealings that were less than legal.
JUSTIN BIEBER
Though Samberg has repeatedly sworn that Conner was not meant to be a spoof of the Biebs, they certainly share some key characteristics. These include a precocious talent for drumming (Conner is seen playing as a one-year-old in a phony home video), a predilection for exotic animals (Conner opts for a pet turtle rather than Bieber's monkey buddy), and a penchant for inappropriate behaviour while visiting Anne Frank's house (Conner does way worse than leaving a dumb note in the guestbook). Conner's prank-loving entourage certainly has shades of Bieber's posse, too. Clearly, some boys just shouldn't have so much money.
BEASTIE BOYS
A source for the Style Boyz is not hard to spot in a real-life trio of white MCs who first hit the big time with party anthems like "Fight for Your Right to Party." Yet according to Akiva Schaffer, Conner's old group is meant to be "more offensive and lame" than the Beastie Boys were in their cruder early days. (In another echo of reality, Schaffer's character quits the music business to live on a farm, a retreat that was made by both Duran Duran's original drummer, Roger Taylor, and Public Enemy's DJ Terminator X — strange but true!)
KANYE WEST
Popstar may reach its peak of craziness when Conner pops the question to his arm-candy girlfriend (played by Imogen Poots) in a proposal explicitly tailored for the cameras permanently pointed in their direction. Conner's case involves the ill-fated combination of Seal, a string section, and a pack of trained wolves. This is just a touch more absurd than what Kanye did for Kim in their picture-perfect moment in a San Francisco park with a symphony orchestra, as later seen (of course) on Keeping Up with the Kardashians.
MACKLEMORE
As you'd expect, the musical parodies come fast and hard in Popstar. One sign that Conner's career is cooling comes when he doesn't get the welcoming reception he expected for "Equal Rights," a song in which he defends people's rights to love who they choose while strenuously ensuring that no one thinks he's gay himself. (Conner uses gratuitous shout-outs to hot wings, drum solos, and sweat pants as further testaments of this.) Macklemore worked just as hard to ensure that listeners didn't get the wrong idea from "Same Love," which didn't go down so well with LGBTQ activists who believed he was appropriating their cause.
U2
Speaking of controversies, Conner's ill-fated idea to turn home appliances into his promotional tool is really not as bad as U2 and Apple's scheme to launch the Irish band's last album by slipping it into the devices of 500 million iTunes users without the recipients, like, asking for it. Though Conner's gambit causes a national power outage, U2 suffered an even fiercer backlash for messing with our playlists.
Jason Anderson writes about movies for Cinema Scope, FFWD, and the Toronto Star.