The darker side of Rachel McAdams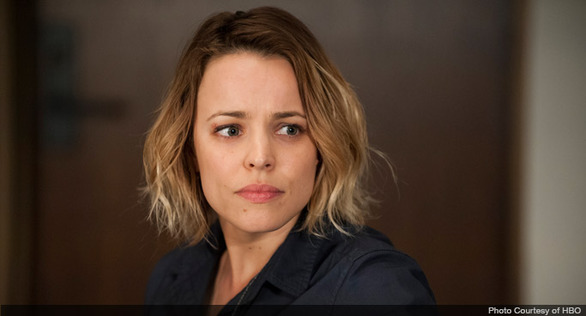 Rachel McAdams returns to her small-screen roots in the second season of True Detective.
She is a famous actor – but that's different from being a movie star. She doesn't have her own futuristic dystopian franchise like Jennifer Lawrence. She doesn't play a rubber-clad superhero in a seemingly endless series of Marvel movies like Scarlett Johansson. She's not a power player who buys up the rights to hot properties, casting herself in the lead the way Reese Witherspoon can. And this isn't the golden age of female-led romantic comedies during which Julia Roberts ascended to fame.
Maybe the answer isn't on the big screen.
So what kinds of movies does that leave for an actor like McAdams? Maybe the answer isn't on the big screen. In an industry where the refrain of "Where are all the roles for women?" is echoed often (while very little is done about the conundrum), television is the medium where, increasingly, they are finding roles with substance. There's AMC's Mad Men, where Peggy Olson drove one of the show's most interesting storylines, and HBO's Game of Thrones, which couldn't exist without Cersei Lannister, Arya Stark, or Daenerys Targaryen (to say nothing of the most excellent Brienne of Tarth). And now True Detective, the satanic-tinged crime drama created by novelist Nic Pizzolatto, features a female lead in its second season: McAdams plays a county sheriff representing one of the three branches of law enforcement that converge over the case of a crooked city manager who's found dead, his body adorned with symbols that hint at an involvement in the occult.
It's dark material for an actor whose credits include The Notebook, The Vow, and Midnight in Paris (Mean Girls' Regina George may be the closest McAdams has ever come to the dark side), and her character represents a shift for the show, too. The first season provided plum roles for stars Woody Harrelson and Matthew McConaughey, who both earned Emmy, Golden Globe, and Screen Actors Guild nominations for their efforts. The women in Season 1 weren't given that same rich material — they were cast as the wives, the girlfriends, the mistresses, and the procession of victims. This gave critics like The New Yorker's Emily Nussbaum good cause to argue that on True Detective, female characters were little more than set pieces.
Enter McAdams. When Pizzolatto tweeted (and deleted) a hint about the second season featuring a female cop protagonist, the first was still running and there was no suggestion about who would take on the role. The 36-year-old actress from St. Thomas, Ont., beat out rumoured hopefuls Jessica Biel and fellow Canadian Malin Akerman for the lead.
In True Detective, McAdams gets the opportunity to explore a role outside her wheelhouse of romantic comedies and straight-up romances, but her stint on the eight-episode series doesn't mean another departure from the big screen. (McAdams took a carefully considered step back from the limelight in 2006, turning down big roles after she began to feel as though her successful career had accelerated beyond her control.)
This year, however, is a busy year for the actor. She starred opposite James Franco in Wim Wenders' Every Thing Will Be Fine, which premiered at the Berlin International Film Festival in February. In Cameron Crowe's latest, Aloha, which hit theatres in May, McAdams tops the bill alongside Emma Stone, Bradley Cooper, Bill Murray, and Alec Baldwin. This month, she's on screen as the wife of Jake Gyllenhaal's title character in Antoine Fuqua's Southpaw, and she's voicing a lead role in the animated film The Little Prince.
That the highly touted actress has yet to become a one-woman box office draw doesn't seem to faze McAdams, who still calls Toronto's West End – not Hollywood – her home.
"Truthfully, I never really wanted to be a big movie star," she admitted in a 2013 interview with the U.K.'s Sunday Times. "I never even wanted to work outside of Canada."