Famous Fixers: Who You Gonna Call?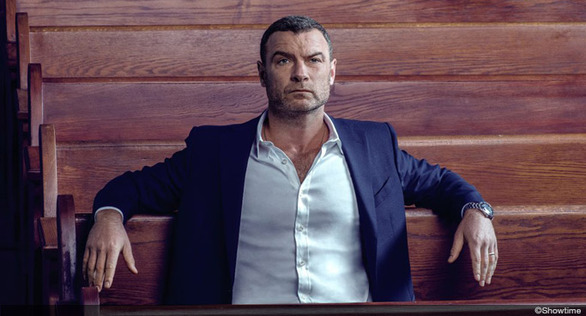 Ray Donovan heads into Season 5, proving Hollywood loves its fixers, both onscreen and off...
Whether or not gunplay is part of a real fixer's job, scriptwriters delight in the dramatic possibilities of these types of roles.
Everyone knows where to get help when the car breaks down or the plumbing springs a leak. But what if you're facing a potentially career-ending sex scandal or an inconvenient dead body? That's when you need a fixer: one of those hard-nosed, quick-thinking individuals who can manage a crisis without breaking a sweat.
They've become common onscreen — and apparently behind the scenes, too. In Ray Donovan (about to launch Season 5) Liev Schreiber plays the tight-lipped title character, transplanted from tough South Boston to solve problems for high-profile clients of a California law firm. Donovan, who's adept at juggling the FBI, Armenian mobsters, and his particularly demanding family, tends to work on the theory that pointing a gun at a problem will make it go away. In reality, the daily life of a Hollywood fixer is more mundane … or is it?
The most famous real-life example was Eddie Mannix, who died in 1963 after many years as general manager and vice-president at MGM. His job involved sorting out potential embarrassments for the studio. Josh Brolin plays a character called Eddie Mannix in the Coen brothers' 2016 film Hail, Caesar! He resolves issues ranging from an unexpectedly pregnant starlet to a kidnapping, all one step ahead of the gossip columnists.
But like Donovan, the real Mannix might have had darker dealings. When screen Superman George Reeves was found dead of a gunshot wound in 1959, it was declared suicide. However, as Reeves had recently ended a long-term affair with Mannix's wife, some observers speculated that she had called upon some of her husband's more sinister connections to have him executed. (The mystery is explored in 2006's Hollywoodland, with Bob Hoskins as Mannix.)
Whether or not gunplay is part of a real fixer's job, scriptwriters delight in the dramatic possibilities of these types of roles.
Here are some of our favourite fictional fixers:
Victor
La Femme Nikita (1990) & Point of No Return (1993)
An early example of this now well-known trope, Victor le nettoyeur (the dead-eyed Jean Reno) turns up in a grey homburg, shades, and five o'clock shadow to dispose of an unwanted corpse with the bottled acid he carries in his briefcase. An ensuing wrinkle in his plan makes for one of the most disturbing scenes in the movie. Three years later, Harvey Keitel, as Victor the Cleaner, needs two even bigger briefcases to do the job — after all, there are two bodies. (This appearance likely paved the way for our second entry.)
Winston (The Wolf) Wolfe
Pulp Fiction (1994)
Vincent Vega (John Travolta) and Jules Winnfield (Samuel L. Jackson) are starting to panic after accidentally shooting their back-seat passenger in the head. Sporting an impeccable tuxedo at 8:50 a.m., Wolfe (Keitel again, in a role reportedly written for him) epitomizes grace under pressure as he coolly assesses the messy predicament, prioritizes tasks, and anticipates anything else that could backfire.
Mike Ehrmantraut
Breaking Bad (2008-13)
We first meet this deadly curmudgeon (Jonathan Banks) in an ill-fitting brown windbreaker and purple latex gloves, coaching Jesse Pinkman (Aaron Paul) on what to say about the drug-induced death of his girlfriend, Jane. Later, of course, he turns up carrying out a multitude of even less appealing assignments in the employ of rival meth dealer Gus Fring (Giancarlo Esposito).
Olivia Pope
Scandal (2012-17)
A different style of fixer, White House Chief of Staff "Liv" Pope (Kerry Washington) specializes in political crisis management with the help of her team of misfit associates, her (very) close connections with men in power, and her trend-setting wardrobe. She's said to be loosely modelled on George H. W. Bush's deputy press secretary, Judy Smith.
Charlie
John Wick (2014) & John Wick: Chapter 2 (2017)
When you're a reclusive, bereaved contract killer, you need pals. The courteous Charlie (David Patrick Kelly), his team of muscly mooks with squeegees, and his specialized waste disposal truck are just what you need when you have a dozen or so deceased Russian gangsters lying around the house.
Rose & Norah Lorkowski
Sunshine Cleaning (2008)
A comparative breath of fresh air in this list, Rose (Amy Adams) and Norah (Emily Blunt) are sisters who try to turn their lives around by starting a company that tidies up after violent deaths. They discover that healing sometimes comes to those who help others heal.
Newman
"The Muffin Tops" episode of Seinfeld (1997)
In an end-credits scene, Newman (Wayne Knight) parodies both of Harvey Keitel's "cleaner" roles when he's called in to deal with an oversupply of muffin bottoms that have become an embarrassment to Elaine (Julia Louis-Dreyfus). He echoes one of Winston Wolfe's lines ("If I'm curt, then I apologize …"). Like Victor, he carries a satchel of bottles; not acid, but milk.
Sarah B. Hood is a Toronto writer and editor.