Reel Life Vs. Real Life: Stronger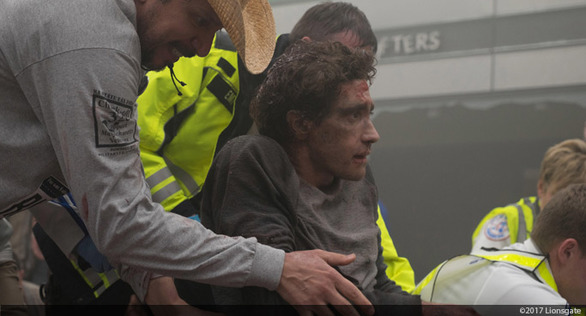 How much does the Boston Marathon terror drama veer from the couple's true road?
...There are a few liberties, including one especially inconvenient one that proves life is full of surprising developments.
On the morning of April 15, 2013, Jeff Bauman was among the crowds on the streets of Boston to cheer on his girlfriend Erin Hurley, one of thousands of runners taking part in the city's famous marathon. He missed her when she passed by and had to call out to get her attention. She stopped for a kiss before she set off for the finish line, where they planned to meet again. "It seemed so trivial at the time, like the most ordinary thing in the world," Bauman would later write. "I guess that's usually how it is before bad luck, or random chance, changes your life."
The chance event that changed Bauman's life occurred a few minutes later, with the detonation of two homemade explosives set by Dzhokar Tsarnaev and his brother, Tamerlan. The blast claimed three lives and injured hundreds; 16 people lost limbs, including Bauman. Yet the loss of both his legs is just the beginning of the story. In Stronger, the film based on Bauman's moving memoir, Jake Gyllenhaal gives one of his most powerful performances to date, conveying Bauman's struggles as he adjusts to his new reality and the pressures of being a sometimes uncomfortably public symbol of "Boston Strong." Canada's own Tatiana Maslany is just as impressive as Erin, the equally tough woman whose support becomes crucial to Bauman's recovery.
It's a genuinely inspiring true-life story, and one that sometimes seems too extraordinary to believe. Yet, according to Movie Entertainment's truth-meter, director David Gordon Green and screenwriter John Pollono do their best to honour Bauman by making sure their version of Stronger hews closely to his book. But there are a few liberties, including one especially inconvenient one that proves life is full of surprising developments.
Here's how it all stacks up.
Though Hurley had recently broken up with him, Bauman came to the marathon to cheer her on, even making a homemade sign to raise her spirits.
TRUE...
Though many movie versions of real-life relationships smooth out the bumps, Stronger's opening scenes make it clear that this romance was a rocky one. Bauman and Hurley had been dating for a year but broke up a month before the race. Bauman was eager to win her back, hence the sign (you can see a picture of it in Bauman's book).
Bauman might have died of his injuries if not for the intervention of Carlos Arredondo, a man in a cowboy hat who had been in the crowd passing out little American flags to honour his son, a marine killed in the Iraq War.
INCREDIBLE BUT TRUE...
Since Green withholds the grisly details of the blast's immediate aftermath until late in his film, the man with the hat is a mysterious figure. But Arredondo proves to be just as fascinating as Bauman.
Moments before the blast, Bauman noticed a suspicious man who turned out to be one of the bombers. After regaining consciousness, he aids the FBI's efforts to capture the perpetrators.
ESSENTIALLY TRUE...
Unable to speak after waking in the hospital, Bauman wrote these words in a note to his brother: "bag, saw the guy, looked right at me." The man he saw was Tamerlan Tsarnaev right after he planted the bomb. That information gave the FBI crucial help during the manhunt that ended with Tamerlan's death and the capture of his brother.
Along with Erin Hurley, Bauman's big, boisterous clan does what they can to help him recover, though his mother and Hurley often clash.
THAT'S FRICKIN' TRUE, TOO...
That said, Green can't resist the temptation to present the Baumans as another in a long line of loud, raucous, heavily Boston-accented families like the kind we know from such movies as The Fighter and The Town. Miranda Richardson is at her brassiest as Bauman's mom, Patty, and the film doesn't flinch from portraying her fondness for drinking and fights with Hurley. It's also true that when Bauman declined an interview with Oprah Winfrey, Mom was (as they say in Boston) wicked pissed.
A bar brawl breaks out after Bauman has a confrontation with a conspiracy-theorist patron who believes the blast was a hoax.
A BIT OF A REACH...
While the film is frank about Bauman's struggles with alcohol as he copes with PTSD and his unwanted fame, there are some exaggerations for the sake of dramatic effect, including the fight. Nevertheless, he did contend with people who had their own crackpot ideas about what happened.
Bauman and Hurley are able to adjust to their many new challenges and get married, becoming happy parents to a baby daughter in 2014.
TRUE, BUT WITH A CATCH...
Though their love story is Stronger's emotional engine, real life has once again proven to be more complicated than the filmmakers might've liked. While the movie was still in production, the couple announced that they were getting divorced. Both still made appearances on the red carpet alongside Gyllenhaal and Maslany when Stronger premiered at the Toronto International Film Festival. Just goes to show you that Hollywood endings are hard to find outside a movie theatre.
Jason Anderson writes about movies for Cinema Scope, FFWD, and the Toronto Star.