Reel Life VS. Real Life: Lion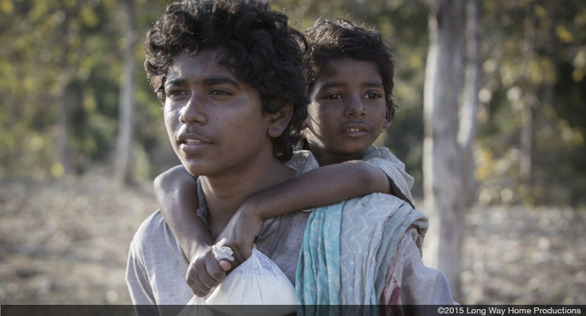 The film version of Lion -- Saroo Brierley's search for his Indian family -- hews remarkably close to the facts (in the mane, that is)...
Our trusty ME Truth Meter reveals that Saroo's tale required few of the usual tweaks that filmmakers use to make a movie more compelling...
The experience of watching Lion is so powerful for most viewers, it's hard to imagine what it must be like for the people who lived it. No wonder Saroo Brierley — played by Dev Patel in an Oscar-nominated performance — admits to having felt emotionally overwhelmed when he first saw director Garth Davis' film version of the extraordinary story of his search for the family he lost in India decades before. "It's such an overload," the 35-year-old businessman said.
That's no doubt a result of Lion's uncommonly close fidelity to the real events. Our trusty ME Truth Meter reveals that Saroo's tale — which he recounted in his 2013 memoir A Long Way Home after massive media interest — required few of the usual tweaks that filmmakers use to make a movie more compelling or to squeeze tears from the eyes of moviegoers. Indeed, even this bare account of the facts might be enough to move hearts, though you'll need to see Lion to get the full triple-hanky effect.
Saroo spent his earliest years in rural India under the care of his mother, a labourer, and his older brother Guddu.
TRUE: The family shows the extremely tough but loving environment that existed for Saroo before fate intervened. Shot in India with first-time actor Sunny Pawar in the role of the young Saroo, the early scenes vividly render the beauty of his home from a child's perspective.
After Guddu leaves five-year-old Saroo by himself at a train station, Saroo ends up stuck on a train that takes him more than a thousand kilometres away from all he knows.
VERY SAD BUT TRUE: Alone and not able to speak a word of the local language of Bengali, Saroo survived on the streets of Calcutta (now Kolkata) for three weeks (the movie extends his ordeal to two months). The adult Brierley acutely recalls his panic. "I was crying for my mother and my brother and my sister," he recently said. Among the threats he evaded was a gang of child-sex traffickers.
After a time in a nightmarish orphanage, Saroo is adopted by Sue and John Brierley, an Australian couple, and goes to live with them in Tasmania.
TRUE AGAIN: The film closely adheres to the true details about Saroo's adoptive parents, right down to their choice of first gift: a koala stuffy. He also becomes an avid surfer, hence the newly buff physique for Patel, the formerly scrawny star of Slumdog Millionaire.
The Brierleys adopted Mantosh, another boy from India, who had far worse trouble adapting to his circumstances than Saroo.
MOSTLY TRUE: Though the real history is more complex than the one the film reveals, the softened version of Mantosh's story is still the darkest note in Lion's otherwise inspirational narrative. Badly abused as a youngster, the real Mantosh has struggled with mental-health issues throughout his life.
While studying hospitality as a young man, Saroo has a romance with an American classmate.
NOT QUITE: Brierley describes Rooney Mara's character, Lucy, as a "compression" of other women in his life, though she's close to an Australian (not American) ex-GF. It's also worth noting that Patel and Mara's characters never kiss, an effort by the filmmakers to adhere to Bollywood's chaste conventions and ensure Lion could be released in India.
After learning about the aerial photography made newly available by Google Earth, Saroo spends five years trying to determine the whereabouts of his family based on a few scant memories.
ON THE MONEY: In the movie, someone mentions Google Earth to him at a party but Saroo says he discovered the feature himself. "I started to have all these thoughts and what possibilities this could do for me," he says. The all-powerful folks at Google were thrilled to be featured in such a positive light — they even promoted Lion with a feature that allowed online users to trace Saroo's journey. In any case, an industrial tank near the train station was one of the things he looked for during a search that became an obsession. It's easy to see why Patel calls him "the epitome of a fiercely driven young man."
After a breakthrough, Saroo goes to India in 2012 to the town where he believes he was born and his family may still reside.
HEY, NO SPOILERS! You may very well know the ending, but even if you do, the movie's final scenes are immensely moving. There's also a surprising tidbit that we will reveal, which is that Brierley had been incorrectly remembering his name all these years. He was actually named Sheru, Hindi for "lion." That fact alone may be worth another hanky.
Jason Anderson writes about movies for Cinema Scope, FFWD, and the Toronto Star.