The Jinx: Lifestyles of the Rich and Dangerous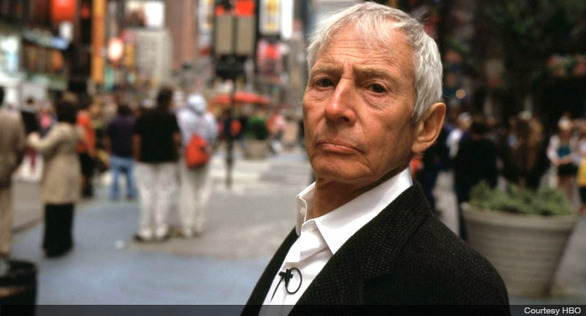 The Jinx takes us inside the mind of a wealthy murder suspect...
Her body was never found...
Son of a billionaire real estate mogul, Robert Durst has been closely linked to three notorious crimes. The first was the 1982 disappearance of his wife, Kathie. Her body was never found, but the couple's combative relationship was well known to family and friends. Eighteen years later, Susan Berman — a close friend of Durst — was also found dead, seemingly the victim of a mob-style slaying. In spite of widespread suspicion, charges were never brought against Durst in either case. However, he finally saw the inside of a courtroom the following year, when he admitted to killing and dismembering neighbour Morris Black. While this might not sound like an obvious path to acquittal, Durst's high-priced lawyers managed to persuade the jury that their client acted in self-defence.
For those following Durst's story, this proved to be an unsatisfying conclusion — and he showed no intention of offering any further explanation. For the families of the victims, any hope of achieving closure seemed lost. After all, what could Durst possibly stand to gain by revealing more? Clearing his name might have been a temptation, but having been repeatedly scorned by the press, he had little faith in journalists. It seemed we'd heard the last of Robert Durst, but in late 2010, he had a sudden change of heart — one brought on by a movie.
If aspects of this story sound familiar, there's a good chance you saw All Good Things, the 2010 drama starring Ryan Gosling as a semi-fictionalized Robert Durst. Director Andrew Jarecki spent five years researching that film, reviewing thousands of court documents and interviewing roughly 100 people connected to these crimes. Durst's lawyers refused to grant access to their client, but Jarecki made a concerted effort to treat his subject fairly, avoiding the demonizing sensationalism prevalent in media coverage of these events.
The director's efforts were not lost on Durst, who was brought to tears when he saw the film. In spite of the fictional aspects of All Good Things, Durst felt it was the most honest and accurate telling of his story to that time. In fact, he was so impressed that he reached out to Jarecki, offering to finally break his silence. The resulting interview is the focus of The Jinx: The Life and Deaths of Robert Durst, a six-part HBO documentary series that offers an unusually candid and revealing look inside the mind of a murder suspect.
"...he's a deeply complicated person who cannot be summarized in a simple way..."
Now 71, Durst submitted to more than 25 hours of questioning, filling a massive void in the public's knowledge of his story. This wouldn't have been possible without Jarecki's compassion for Durst, an unlikely stance that stems from their similar backgrounds. Like Durst, Jarecki grew up in a wealthy New York family with a distant, overbearing father. Having some first-hand experience with the problems faced by a young, overprivileged man like Durst, Jarecki was able to grasp complexities that many journalists overlook. "What's clear about Bob, if you spend five minutes with him, is that he's a deeply complicated person who cannot be summarized in a simple way," Jarecki says.
Acquitted of the only murder charge brought against him, Durst would seem to have little left to prove. However, he remains guilty in the eyes of the public, a perception he hopes to change with The Jinx. This may sound like a daunting objective, but documentaries have achieved far more unlikely exonerations in the past. Errol Morris' 1988 film The Thin Blue Line so persuasively demonstrated the innocence of death-row inmate Randall Adams that his conviction was overturned. Similarly, the West Memphis Three were released after 18 years in prison, thanks to a string of documentaries (the Paradise Lost trilogy, West of Memphis) that inspired public outrage and unearthed new evidence. Even Jarecki's 2003 documentary Capturing the Friedmans, about a child molestation case, was screened in a legal context.
Now a decade into his research, Jarecki qualifies as one of the world's leading authorities on all things Durst, but he remains open to whatever conclusion his investigation reaches. While he was pleased with the Capturing the Friedmans outcome, it was never his intention to influence that case. The way he sees it, taking sides in a documentary is a problematic tactic likely to bore an audience. This may explain why he so carefully conceals his own perspective in The Jinx, leaving the outcome of this series a genuine mystery. You'll have to watch all six episodes to find out what Jarecki has up his sleeve, but it should be worth the wait. According to the filmmaker, The Jinx will finally bring clarity to Durst's story. "By the time you get to the end of this series, you won't be scratching your head," he boldly promises. "You'll have a clear view of what happened."
Jonathan Doyle writes about movies for Comedy, The Loop, and Space.