Ryan Gosling: The City of Stars Shines Just for Him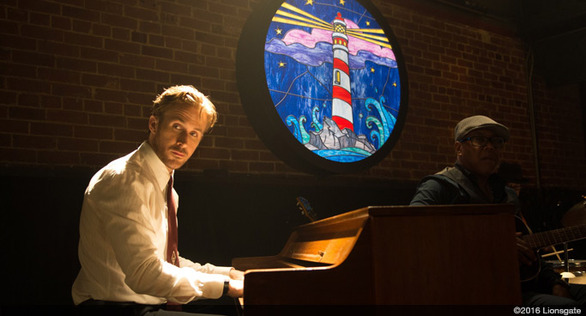 La La Land unleashed Ryan Gosling's inner song-and-dance Mouseketeer and earned him a well-deserved Oscar nomination as Best Actor...
I never had to go: 'Ryan, you should work a little harder.' It was always: 'Ryan, calm down. It's OK.'
In a different world, Ryan Gosling would have shown up as the lead in last year's feel-good awards magnet La La Land with far more singing and dancing experience.
The Ontario kid who arrived in Hollywood via London and Cornwall had, after all, made his screen debut from age 13-15 as one of the cast in the '90s version of The New Mickey Mouse Club.
As comedy sketches morphed into song-and-dance numbers, Gosling found himself edged out by fellow cast members with stars in their eyes and stardom in their future — kids like Britney Spears, Justin Timberlake, and Christina Aguilera.
"At that point, I really didn't get to do as much of that (singing and dancing) as I wanted to do," Gosling says of his teenage experience. "They knew where they wanted to go with people like that and the talent they had, and I was less and less a part of it."
But it may be that everything does happen for a reason.
Gosling found a creatively fruitful path of his own that included TV (as the star of the series Young Hercules), a powerful breakthrough feature film called The Believer (about an Orthodox Jew turned Nazi skinhead), bittersweet love stories (Blue Valentine, Lars and the Real Girl), crowd-pleasing love stories (The Notebook, the romantic comedy Crazy, Stupid, Love), and an early Oscar nomination for playing a drug-addicted teacher in the indie film Half Nelson.
And as luck would have it, when the pastel-coloured musical that would earn Gosling his second Oscar nomination came calling, director Damien Chazelle (Whiplash) was OK with working with a relative novice.
Chazelle says he wanted to avoid staginess in La La Land's story of an aspiring actress named Mia (Emma Stone) and a purist jazz musician named Sebastian (Gosling). "I needed to root things in real life. What if you were looking at real people you feel you could be sitting at a bar with or on a bus with? Not people who came to the screen waiting for their moment to sing and dance.
"So, Ryan came in with all this crazy dedication. He's the hardest person on himself and it kind of made my job easy. I never had to go: 'Ryan, you should work a little harder.' It was always: 'Ryan, calm down. It's OK.'
"His piano playing is a perfect example of Ryan being crazy. He was very much a beginner. But at the beginning, he was like: 'I'm going to sing, dance, and play piano.' The most important, arguably, was the piano. That's what defined his character.
"I'm not necessarily a musical fanatic. But this felt like it had potential to be accessible to those who didn't love musicals, as well."
"So he fully embraced that and learned for months and months and months. I was prepared to have a piano double on set and shoot around him and stuff. But he upended all our expectations. He knew every single piece by heart. There's not a single shot in the movie that's a piano double."
For his part, Gosling doesn't recall it as such an arduous three months.
"I practised a lot, I had a wonderful tutor, and I really enjoyed the music," he says. "It never got old."
He admits he never actually learned to read the music. "I was learning it all by ear. Luckily, we had three months, which is more time than you get on most films."
Could he still play if someone asked him to? "Yeah, but only songs from the movie," he says.
"I'm not necessarily a musical fanatic. But this felt like it had potential to be accessible to those who didn't love musicals, as well."
Chazelle's intention to position La La Land as a love letter to Los Angeles was a bonus to Gosling, particularly the decision to film on location as much as possible (think of the visit to the Griffith Observatory planetarium that preceded the famous "dancing in the stars" scene).
"It was fun to shoot at all these places that were familiar, but I'd never really visited," Gosling said. "The Watts Tower (a building-sized metal sculpture that hosts festival events) was a place I always wanted to go … And for years, I lived around the corner from Angels Flight (billed as "the world's shortest railway," it's a downtown L.A. sightseeing attraction that's fallen into disuse). "I could never ride on it, because it's been closed for years. They opened it up for us to shoot there, and that was an amazing experience."
La La Land was something of a splashy comeback for Gosling, who had recently taken a couple of years off from acting. "I directed a film (his debut, 2014's Lost River), and my girlfriend (Eva Mendes) and I had a baby (in fact, they had two daughters, Esmeralda Amada Gosling, born in 2014, and Amada Lee Gosling, born in 2016).
And as he was promoting La La Land at the 2016 Toronto International Film Festival, Gosling was squeezing in a few days away from his next landmark assignment. He's starring in Blade Runner 2049, Denis Villeneuve's reboot of Ridley Scott and Harrison Ford's 1982 sci-fi classic, Blade Runner.
"I'm going back to Budapest in a couple of days to pick up where we left off," he told me at the time. "I can't shed any details about the story or script. But I can say it's been a really remarkable experience."
Jim Slotek is a Toronto movie critic and freelance entertainment journalist.