Close Encounters of the Spielberg Kind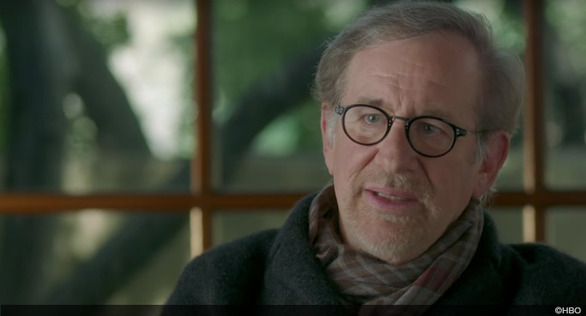 The prolific but private filmmaker finally steps in front of the camera in a new documentary...
"There was no going back. This was what I was going to do, or I was going to die trying."
When Lawrence of Arabia hit theatres in 1962, a 16-year-old Steven Spielberg was blown away. He couldn't get enough, and so he returned to the theatre to take in director David Lean's wartime tale every week for weeks. "At the heart of Lawrence of Arabia is who I am," he explains. "There was no going back. This was what I was going to do, or I was going to die trying. This was going to be the rest of my life."
With franchises like Indiana Jones and distinct offerings ranging from Jaws and E.T. the Extra-Terrestrial to Saving Private Ryan and Schindler's List under his belt, it's probably safe to say that Spielberg has since surpassed Lean's own Oscar-laden career.
It's that far-reaching resumé, interspersed with personal accounts of his upbringing, his relationship with his parents, and his collaborations with other directors like James Cameron and George Lucas, that's explored in HBO's latest documentary, Spielberg.
Considering that this is the first documentary ever to be made about the prolific filmmaker, whose career now spans more than five decades, "comprehensive" only begins to describe the film.
Director Susan Lacy originally budgeted and planned on four interviews with Spielberg for the project, given his tendency to stay well behind the camera. But after the first meeting and digging into the man's childhood for a couple of hours, Lacy says, Spielberg immediately wondered when they could meet next. The result was 17 two-hour interviews, and Lacy had more than enough material to piece together her own narrative of Spielberg's life and contributions to the medium.
"He's never done a director's commentary. He is very shy about interviews."
"To hear him talk about the impact of his parents' divorce and that E.T. came out of a desire to fill the heart of a lonely child … it's very different than reading it in a print interview, of which he's done very few," Lacy says. "He's never done a director's commentary. He is very shy about interviews. So this really was quite an extraordinary experience, to hear him really open up."
To be sure, there's a lot of other material in the film as well, including comprehensive clips of Spielberg's work plus interviews with many of the famous actors he has directed. Lacy conducted more than 80 of those chats, sitting down with the likes of Richard Dreyfuss, Martin Scorsese, Tom Hanks, and Sally Field. Of these interviews, Lacy easily found one thing in common: the awe that people share for Spielberg's craft and his ability to visualize shots in advance.
"Every actor I interviewed, and I interviewed everybody from Daniel Day Lewis to Jude Law to Leonardo DiCaprio and Matt Damon — I mean everybody — they were most impressed with how much Spielberg understands of the process of filmmaking and how he sees ahead when he's shooting," Lacy says. "He knows exactly how he's editing, and that's extraordinary. There are very few filmmakers that have that skill, and it impressed everyone."
Of course, Spielberg didn't always impress everyone on set. The film tells of a twenty-something director having to work with the likes of a miffed Joan Crawford, or how his reputation of always going over budget nearly cost him the original Indiana Jones movie (1981's Raiders of the Lost Ark).
Spielberg wasn't always the affable producer and director he's known for being today.
His controversial participation in The Color Purple is also up for discussion, as is the famous tale of him sneaking onto the Universal lot to watch Alfred Hitchcock direct. In fact, the film isn't shy in pointing out how Spielberg wasn't always the affable producer and director he's known for being today.
As many in Hollywood can attest, having a top-grossing film like Jaws or Jurassic Park doesn't necessarily translate into trophies. So the documentary takes plenty of time to cover Schindler's List, a turning point in Spielberg's career as it marked his first Oscar win as a director. It's the only film he helmed to have won Best Picture.
"I knew it couldn't be like anything I'd ever done before," Spielberg says in the doc, revealing that he had held onto the book on which the movie was based for a decade because he wanted to wait for exactly the right time to do it. "It changed my entire approach to cinema."
A quarter of a century later, some filmgoers argue that Spielberg has transitioned from a populist to an artist with follow-up films like Saving Private Ryan, Catch Me If You Can, and War Horse. Others, including Lacy, believe these films arise from Spielberg's life experience and are not an indicator of a particular style.
"Those two people have always lived in Steven. He is a populist, and he is an artist. His early movies drew on what he knew. He was a kid of the suburbs. He was a child of divorce. He watched television and read comic books," she says. "For the most commercially successful filmmaker in history, the box office has never been what's driven him. What's driven him is what interests him and where he is at that point in his life, and what he thinks is important to say. That's changed. That's matured. That's grown up as he's grown up. But that young boy who said, 'This is what I'm going to do for the rest of my life. I'm going to die trying' … that kid is still in him."
Amber Dowling is a Toronto-based writer and the founder of TheTVJunkies.com.