The Affair To Remember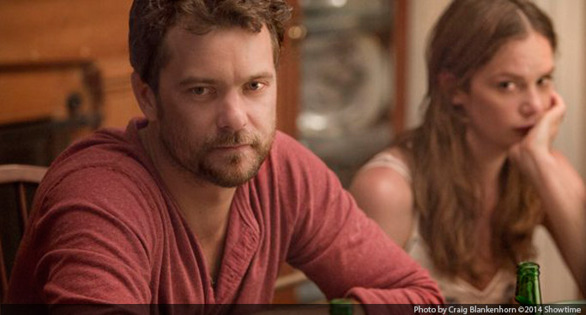 ...see the affair play out from multiple perspectives...
Joshua Jackson remembers the day he told his partner about The Affair.
Jackson wasn't making a confession to his lady love. He was just telling her about his latest series.
The former Dawson's Creek and Fringe star plays Cole, struggling to hold on to his family farm as well as his wife Alison, played by Ruth Wilson (Luther). After a devastating tragedy, Alison–a waitress at a popular Hamptons diner–begins an affair with Noah, played by Dominic West (The Wire). Completing the quartet is Noah's childhood sweetheart and wife of 17 years, Helen, played by Maura Tierney (ER).
Viewers see the affair play out from multiple perspectives, and how "memory bias" plays a role in dissecting an affair.
Now, a series about adultery can cut a little too close to the bone for some Hollywood actors and actresses. It's a little like Charlie Sheen trying to counsel Rob Ford on substance abuse.
It was the intimate nature of the project, however, that helped draw Jackson to the part. "You know you're engaged by something when it makes you a little bit – I don't know if scared is the right word – but if you feel nervous about it," he told Movie Entertainment magazine.
As much fun as he had servicing what he calls the "epic scale" and mythology behind his last series, Fringe, Jackson welcomed a chance to be in something where chemistry was the only special effect. "That's the fun part of an actor's job," says the 36-year-old Vancouver native. "The plotting is really less important than the intimacy and the reality of these characters."
"this is going to be an interesting topic of conversation for years to come."
That's how he sold it, in any event, to his partner these last eight years, German actress Diane Kruger (Inglourious Basterds, The Bridge). Jackson says he read the script from executive producer Sarah Treem (who adapted In Treatment), loved it and passed it on to Kruger. She loved it too, but, says Jackson, it only dawned on them later that "this is going to be an interesting topic of conversation for years to come."
Executive producer Jeffrey Reiner (Friday Night Lights) agrees that The Affair was more of a personal challenge than some other acting jobs. Actors who do crime dramas haven't actually robbed banks or killed people, he presumes, but, "everybody knows about marriage. Some people have had affairs. Other people haven't."
Some cast members swapped their own marital stories before shooting began. Reiner can't recall another project where the cast and producers shared so many intimate experiences heading into the project. On his first meeting with Wilson, for example, Reiner says he "told her stuff that I haven't told anybody."
Critics who wondered whether Treem was drawing from experience when writing The Affair were told that she was only recently married. Showtime president David Nevins welcomed Treem back from her honeymoon, and put a reassuring spin on things. He told the couple he'd heard that writers write in order to expunge their demons so they don't act on them.
Both Treem and Nevins suggest the series ultimately might be more about marriage than about an affair. "I think that the term 'affair' will ultimately prove to be somewhat ironic if you keep watching the show," Treem comments.
Jackson says working with Treem in shaping Cole–whom he described as "not an emotionally capable man who can eloquently speak about his feelings"–helped draw him into the series. Each of the actors was pitched what the show was about and where it was heading. "Once we started getting into the conversations, there was plenty of space to bounce ideas," he says.
Jackson doubts that he could have played this role five years ago. "It takes the seasoning of life to get you here, and, you know, when you're an actor, those things are so intertwined."
West was a little more cavalier about his role as Noah. The English actor joked that he was "trying to think if I've ever not played an adulterer."
Tierney, who used to shoot 22 or 24 episodes per season of ER, says the opportunity to do a 10-episode season helped her come on board. "This is a very complicated story," she says, but she feels that the shorter run allows the writers more time to get the story right.
Tierney's other reason to do the series? "I also hadn't worked with a Canadian in a long time," she said, goofing on Jackson.
As his own take on a lasting partnership, Jackson says he believes in the labour of love. "Showing up and being there and being present and, you know, if you have to have the tough conversation … just being engaged," he says. It's all about not taking things for granted, "but putting the work out."
Bill Brioux is a Toronto-based freelance journalist and contributor to the Canadian Press.