The Deuce: Porn, Prostitution & Revolution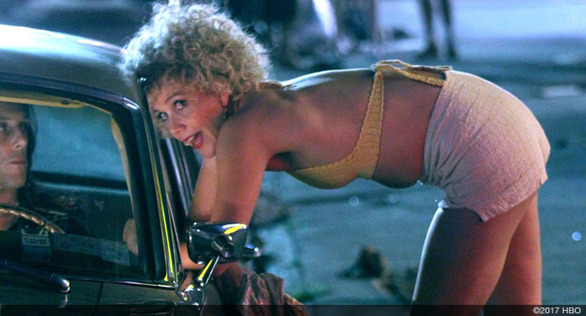 In The Deuce, Maggie Gyllenhaal brings business savvy to the sleazy side of 1970s Manhattan...
Playing a prostitute wasn't exactly a bucket-list item for the Oscar-nominated Maggie Gyllenhaal.
A curvy, curly-haired blond woman sashays down a dank hotel hallway wearing a miniskirt and skimpy blue tank top, a gawking teenaged boy trailing behind. "I won't bite," she breathes as she unlocks the chosen door. "It's gonna be nice." Minutes later the image of a subway zooms across the screen; and then, back in the room, the woman is smiling at the boy's flushed face. "Wow, you really were ready."
"It's my birthday," he pleads, asking for a chance to recuperate and go again despite his lack of cash.
"Yeah? Well, happy birthday to you," the woman refuses in a harder voice as she fixes her face in the mirror. "This is my job."
Playing a prostitute wasn't exactly a bucket-list item for the Oscar-nominated Maggie Gyllenhaal. But as the Marilyn Monroe-inspired, 1970s call girl Candy in HBO's latest series, The Deuce, she's not just a lady of the night. She's a multi-faceted entrepreneur and artist trying to make it on the mean streets of New York during a historic boom in the porn and sex-trade industry — a time before the rise of AIDS and the Internet, and a period of unprecedented capitalism that could very well have coined the term "trickle-down economics."
"At the time of this piece, you could be a prostitute on the street. You could be a prostitute at a massage parlour, or as more of a high-class call girl," Gyllenhaal says. "What was incredible about porn, which is really what one of the major subjects of the piece is, is that it was lawless. It was like pure capitalism. If in some ways it's a critique of capitalism, you get to see it in its purest form: There are no laws, no boundaries, and you get to see where it falls and the effects it has on the people involved."
Attempting to pull off such a complex series are co-creators and executive producers David Simon and George Pelecanos, journalists turned TV writers whose comprehensive research became the basis for HBO's groundbreaking series The Wire. The Deuce, titled for the nickname given to Manhattan's 42nd Street where most of this tale takes place, is loosely based on stories from twin brothers they met (both played in the series by James Franco) who had served as Mafia frontmen during that era.
Porn, says Simon, "is a multibillion-dollar industry right now that has transformed not only the American economy, but also our cultural mores — the way in which men and women view each other. It's had a profound impact. We're arriving in the story in 1971, which is when it went from being an under-the-counter, paper-bag product to being street legal."
Gyllenhaal, who came to the project via the pilot's director, Michelle MacLaren (Breaking Bad), says she'd been looking to do a complex project like this. But as part of her contract negotiation, she wanted to also be a producer in order to retain some control. With three scripts of eight in the bag, she wanted a guarantee that the show would continue to tell a story she wanted to be a part of and to explore.
"Because I was playing a prostitute, because my body was going to be so big a part of the work I had to do, I wanted a guarantee that my mind was also going to be included," she says. "The truth is, that was a really big ask. Everyone told me they were never going to give it to me. The fact that they did, and that they included me as a part of the storytelling and the thinking of what the show was about and what was happening with Candy, meant so much to me and fed me so much in terms of my work."
For Gyllenhaal, it all goes back to that scene in the pilot episode with the barely legal boy. While he expects a second ride for free, she divulges a little more about her situation and why that blond wig is only a part of her persona — the first part that meets the eye.
"I can't even see Candy as a stereotype. If I had been presented with an opportunity to play a prostitute who is defined as only a prostitute, I don't think I would be very interested," Gyllenhaal says. "In the pilot she says, 'This is my job. I am also a lot of other things, which is why I'm not going to f--- you for free. We're not dating. This is my job.'
"Throughout the episode you see her family life, you see her artistic life, her intellectual life, her sexual life. You see all elements of this person whose job in the first half of the season is being a prostitute. And then her job shifts as she becomes involved in porn, and that's where it gets really interesting to me."
We're sure audiences will agree.
Amber Dowling is a Toronto-based writer and the founder of TheTVJunkies.com.