The Secret Life of Julia Roberts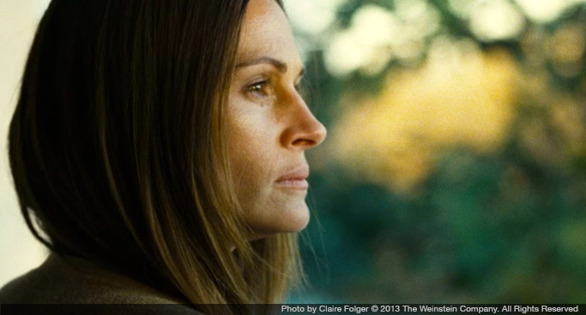 The megastar's carefully controlled career means that Hollywood fame hasn't come at the cost of her family life.
...she's boring—at least in the eyes of the paparazzi.
Julia Roberts leads a pretty quiet existence for a woman at the top of Hollywood's A-list. A decade ago, the 47-year-old actor gave birth to twins Phinnaeus and Hazel. Since then, she has limited herself to working on just one movie a year—sometimes two, if it's a supporting part or voice work. She has chosen to spend the majority of her time in the role of mom. Now a mother of three (she and cameraman husband Danny Moder had their third child, Henry, in 2007), Roberts comes across as determined as ever to give her kids a childhood free of photo ops.
Sure, Roberts is visible—just this side of ubiquitous even, where the business of promotion is concerned. She makes annual appearances at the Oscars, the Emmys, and the Golden Globes. She pops in to see Ellen and jokes around with Jimmy Fallon whenever she has a new project to promote. (She's currently on an indefinite hiatus after wrapping the 2014 HBO movie The Normal Heart.) But we don't see Roberts hauling her kids through a string of international airports à la Brangelina, or on a publicity-friendly family outing to the farmers market like the Garner/Affleck clan. She has gone down the same route former co-star and fellow A-Lister Matt Damon took when it comes to constructing a public persona: she's boring—at least in the eyes of the paparazzi.
There was a time when Roberts' tumultuous dating life drew a good deal of media attention...
It wasn't always this way. There was a time when Roberts' tumultuous dating life drew a good deal of media attention, but it looks like her recent efforts to appear humdrum are working for her. The star recounts a time when her family was visiting Toronto and some passersby recognized her on the street. "Yeah, my mom's Julia Robinson," her seven-year-old son announced to no one in particular, sweetly bungling her boldface name and demonstrating a largely unspoiled innocence when it comes to the celebrity industrial complex in which his mother has been ensconced for more than 25 years.
A concerted effort to be boring is a strategy that can be employed only by a star acutely aware of her own worth. Boring is not for the attention-starved celeb afraid that a week without a tabloid cover story signals a fall from the pinnacle of fame. Roberts has no fear—and for good reason. Since her breakout performance in the 1988 movie Mystic Pizza, her movies have totalled a staggering $2.6 billion at the box office, making her one of the most financially successful actors of all time. This affords her, among other things, enough leverage to stay out of the media spotlight's often-unflattering glare.
"I think there is a dehumanization that goes with fame, especially in the present culture of it, which isn't the culture I started off in," she told the Wall Street Journal in an interview last spring. "There wasn't this analysis of every iota of every moment of every day. Nobody cared about what you wore, nobody cared what haircut you had, if you had on makeup or didn't." Now, she says of the star-stalking celebrity media, "it's become this sort of sport."
Director John Wells captures the woman once billed as "America's Sweetheart" at her un-sweetest.
In stark contrast to Roberts' seemingly stable home life and carefully controlled public image is the domestic drama she wades through in August: Osage County, her most recent theatrical release. Director John Wells' screen adaptation of Tracy Letts' Pulitzer- and Tony Award-winning play captures the woman once billed as "America's Sweetheart" at her un-sweetest. (Except maybe for that time in the early '00s when she wore a handmade "A Low Vera" T-shirt, using the paparazzi to send a message to Moder's allegedly reluctant-to-divorce ex, makeup artist Vera Steimberg.)
In the film she plays Barbara, the favourite daughter of a suddenly departed father, and rival to a drug-abusing, cancer-stricken mother (Meryl Streep). The movie also features Juliette Lewis, Law and Order: Criminal Intent's Julianne Nicholson, Margo Martindale, Benedict Cumberbatch, and a lovable, scene-stealing Chris Cooper. (The surfeit of star power on display led New York Times critic A.O. Scott to call the film a "thespian cage match.")
The August: Osage County Roberts is a different one from we're used to—a movie star stripped down, adorned by very little makeup, and clad in frumpy pyjamas for a good chunk of the film. Streaks of grey are visible in her hair. Her wide-mouth grin doesn't get so much as a cameo. The absence of Barbara's father has left her with a burden he never seemed to carry: a perceived obligation to call bullshit on everything she sees and hears, especially when it comes to her mother. Her character is angry and exhausted and it shows on the actor's face, resulting in one of those rare moments where we can almost forget that we're watching Julia Roberts.
Could it be that her kid was on to something? In this film, maybe it's Julia Robinson we're seeing instead.
Corrina Allen writes for Entertainment on TheLoop.ca