Enjoy a taste of The Trip to Italy at home...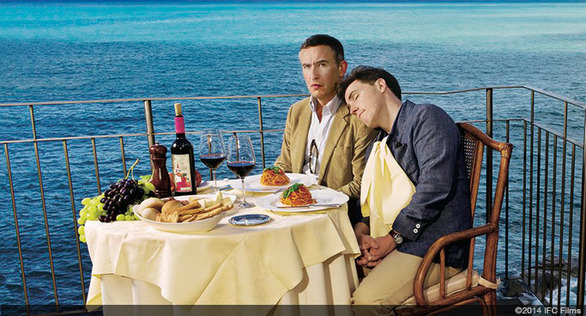 Buon appetito!
Enjoy a taste of Italy without leaving home
While we may envy Steve Coogan and Rob Brydon's adventures in The Trip to Italy, eating and drinking across a country renowned for food and for love, we can indulge in a taste of Lo stivale without leaving our casa dolce casa.
Prosciutto e Arancia
by Theresa Albert, My Friend in Food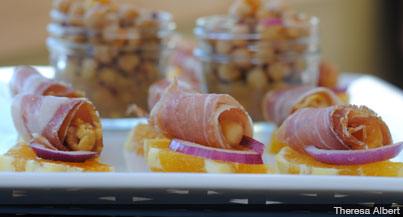 There is nothing like the glowing orange of the sun on your skin. To invite that sensuous warmth in between your lips is almost as good. And with this Italy-inspired easy appetizer, you can have it all. A few simple ingredients are tossed together as a chickpea salad, which is then mashed and rolled into slivers of prosciutto and set atop orange slices. The whole mouthful in one bite is exquisite and you are back on the couch in time to hit play.
1 can chickpeas
½ red onion, minced
2 tbsp extra virgin olive oil
1 tbsp balsamic vinegar
1 tbsp white wine or apple cider vinegar
2 tsp hot mustard
1 tsp dried basil
4 navel oranges
16 slices prosciutto
Drain chickpeas and toss in a salad bowl with minced onion, oil, vinegars, mustard, and basil. Set aside.
Cut peel off oranges and slice into rounds and then half-moons. Lay ¾ of the slices on a platter and chop remainder into bite-sized pieces and add them to salad. Pull ½ cup or so of the chickpea salad from the bowl into a separate bowl and mash roughly with a fork.
Drop a small amount of mashed salad onto a prosciutto slice and roll. Lay on top of an orange slice and garnish with red onion if desired. Serve both together as a salad and appetizer.
Cin cin!
Strawberry Basil Strada cocktail
(Strada means road in Italian)
by Dee Brun the Cocktail Deeva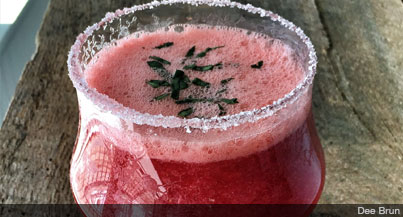 This refreshing cocktail gives a sweet start with the sugar rim, while retaining a little tartness that works well with the saltiness of the prosciutto.
Sugar for rim
2 fresh basil leaves
2 ounces fresh blood orange juice
½ ounce fresh lime juice
5 whole strawberries
1½ ounces Limoncello
¼ ounce agave nectar
½ cup ice
Rim glass with sugar. Add one basil leaf and all remaining ingredients to blender. Blend smooth. Garnish with chopped basil leaf.