Tom Ford: What I Really Want To Do Is Direct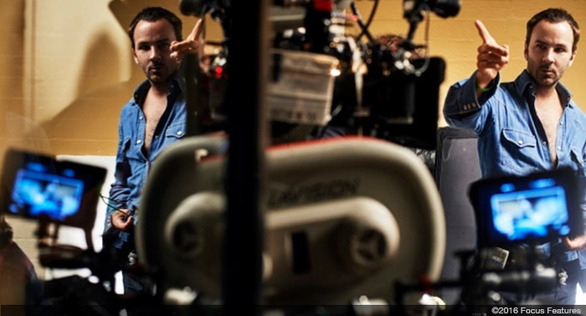 Like many before him, Tom Ford had a very different career before making movies...
...when he left Gucci, four people were hired to take his place...
Celebrated fashion designer Tom Ford revitalized Gucci in the '90s and Yves Saint Laurent in the '00s, eventually launching a massively successful label of his own. Famous for his gruelling work ethic — when he left Gucci, four people were hired to take his place — he was able to keep up his relentless pace and still make time to pursue a second career as a movie director. While filmmaking brings together many art forms, Ford's extreme specialization in just one (i.e., fashion) was seen by some as a limitation. However, when he launched his new career with an adaptation of Christopher Isherwood's A Single Man, the film earned praise and recognition (including a BAFTA and an Oscar nod for star Colin Firth) all over the world.
Seven years later, Ford returned to movies with Nocturnal Animals, an intricately layered murder mystery (starring Amy Adams, Jake Gyllenhaal, and Michael Shannon) that earned the director more praise, confirming what many concluded the first time around: Tom Ford is an extremely capable filmmaker. For those with a good grasp of film history, Ford's instant proficiency should come as no surprise. After all, he's not the first person to successfully transition to directing from a very different career.
Julian Schnabel
Like Ford, Julian Schnabel was already world-renowned by the time he directed his first film, Basquiat, a biopic about fellow New York artist Jean-Michel Basquiat. While his subject had mixed feelings about Schnabel, that didn't stop the neophyte director from tapping into his own knowledge of the New York art world to create a vivid and convincing portrait. Schnabel has enjoyed greater critical success with subsequent films (Before Night Falls, The Diving Bell and the Butterfly), but he is still best known for his paintings.
Career upgrade: 0/10
Bob Fosse
Known for pioneering "jazz hands" and so much more, Bob Fosse won eight Tony awards for best choreography. Filmmaking was less a deviation from his stage work than a triumphant extension of it, particularly his Oscar-winning contribution to Cabaret and his fearless self-examination in 1979's All That Jazz.
Career upgrade: 5/10
Alejandro González Iñárritu
At an age when many of his peers were enrolled in film school, Alejandro González Iñárritu was a radio host for WFM, Mexico's most popular rock station. Using music and assorted audio clips, Iñárritu developed a fragmented storytelling approach that would pave the way for his non-linear movies, namely Amores Perros, 21 Grams, and Babel. This approach is less apparent in his back-to-back Oscar winners (Birdman, The Revenant), but his knack for holding the audience's attention has never faltered.
Career upgrade: 7/10
George Miller
With four Mad Max movies under his belt, George Miller is a master of inflicting fictional injuries. But before he made the leap to filmmaking, he confronted real-world health crises as a medical student. In the midst of his degree and residency, Miller pursued filmmaking as a hobby — and the results were so impressive that directing took the place of his original career.
Career upgrade: 6/10
Frank Oz
Before he became a successful director of comedies (including Little Shop of Horrors, Dirty Rotten Scoundrels, and What About Bob?), Frank Oz was a master puppeteer, getting exactly the performances he wanted from Miss Piggy, Fozzie Bear, Cookie Monster, and even Yoda. A cynic might describe a director as a puppeteer of actors, but having endured challenging collaborations with many strong-willed stars (most notably The Score's Marlon Brando), Oz would definitely disagree.
Career upgrade: 5/10
Errol Morris
Thanks to a lifelong obsession with film noir, Errol Morris was drawn to a career as a private detective. The skills he developed on the job — including a unique ability to elicit confessions — became especially valuable when he directed 1988's The Thin Blue Line. Thoroughly dissecting the evidence of a single murder case, this acclaimed documentary led to the release of Randall Adams, an Ohio man wrongly convicted of murder.
Career upgrade: 8/10
Wes Craven
One of the most famously extreme examples of this phenomenon came in 1972 when 33-year-old college professor Wes Craven went from teaching humanities to depicting inhumanity in the shocking, wildly controversial The Last House on the Left. While Craven remained on the fringes of Hollywood for much of the next decade, he ultimately became one of the industry's most prominent horror directors, thanks to a pair of franchise-spawning classics: A Nightmare on Elm Street and Scream.
Career upgrade: 10/10
Jonathan Doyle writes about movies for Comedy, CTV, and Space.