Toronto's TIFF-rific!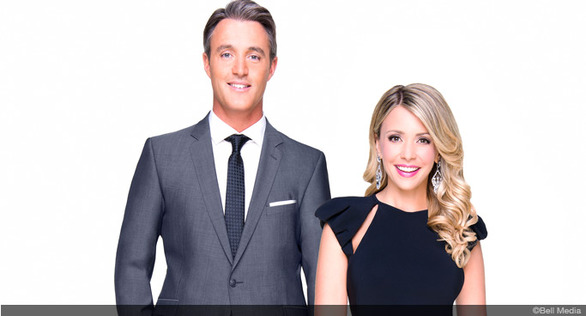 Every September for the past 40 years, the Toronto International Film Festival takes over the city. And since its launch in 2002, etalk has been there — on red carpets, in the first interview/gifting suites, and all over the city at premieres and parties alike...
To celebrate 14 years of TIFF coverage, executive producer Morley Nirenberg shares etalk's Top 14 at TIFF, in no particular order:
#1
Ellen Page and Jason Reitman walked the red carpet of our 2007 etalk festival party for Juno. Just months later, they were Academy Award nominees. Ben Mulroney interviewed both on the Oscar red carpet. Two years later, after achieving nearly identical TIFF-to-Oscar success with Up in the Air, Reitman told him: "It started at the Ryerson Theatre at TIFF and now we're here. I would do every single one that way if I could!"
#2
In 2012, Bill Murray flirted with Danielle Graham on the red carpet for Hyde Park on the Hudson. The two compared favourite hot dog toppings, with Murray insisting that Chicago's hot dogs are far better than Toronto's. The jury is still out on that one …
#3
Speaking of Murray, last year TIFF instituted "Bill Murray Day" in Toronto while the legendary actor was in town to promote St. Vincent. Etalk interviewed Murray on the red carpet and presented him with his own crown and sash to mark the occasion. Murray wore both throughout his remaining interviews on the carpet.
#4
In 2006, Jennifer Lopez received a well-deserved Starbucks drink from our etalk interview suite's barista. Lopez was promoting El Cantante, a film she starred in with then-husband Marc Anthony.
#5
In 2009, while promoting Precious on the red carpet at TIFF, both executive producer Oprah Winfrey and star Sherri Shepherd couldn't help but gush to Ben Mulroney about how good he looked in his suit. Can't say that I blame them. The man does clean up well.
#6
On the 2013 red carpet for The Love Punch, it was obvious Emma Thompson came to play and found a great partner in Jessi Cruickshank. The two downed shots of vodka throughout the interview while co-star Pierce Brosnan watched in awe. Jessi asked what the two-time Oscar winner liked most about Toronto. Thompson quickly answered, "I love your cranes!" before wrapping herself, Cruickshank, and Brosnan in the velvet red-carpet rope. It's a moment we never tire of reliving.
#7
In 2014, Devon Soltendieck finally met one of his favourite actors of all time: Denzel Washington, who was at TIFF to promote The Equalizer. It was the first time since his Oscar-winning role in Training Day that Washington worked with director Antoine Fuqua. Devon couldn't help but speculate on whether another statue might be in the offing.
#8
In 2012, there was big buzz around Argo. Ben Mulroney interviewed director Ben Affleck on the red carpet about his passion project. Affleck said he was proud to bring the film to Toronto, considering its true-life connection to Canadian politics. Argo became one of the year's People's Choice Award winners, second only to Silver Linings Playbook, and it dominated award season, making it all the way to the Dolby Theatre, where it earned Best Picture at the Academy Awards.
#9
Traci Melchor's birthday always occurs during TIFF. In a 2010 interview with James Franco for his soon-to-be Oscar-nominated role in 127 Hours, he asked her what she wanted for her big day. Traci couldn't resist answering, "You!" to an utterly charmed Franco.
#10
Speaking of birthdays, Jessi Cruickshank sang "Happy Birthday" to a slightly embarrassed but still appreciative Colin Firth on the 2012 red carpet for his film Arthur Newman.
#11
In 2007, etalk witnessed first-hand the invasion of Brangelina at TIFF. The couple's SUV was surrounded by fans in Yorkville just steps from etalk's storefront lounge. The ensuing melee was incredible to watch as their vehicle couldn't move an inch due to circling fans attempting to catch a glimpse of Hollywood's most glamorous couple.
#12
It's always nice to hear stars praising our show! In 2013 at the One Chance premiere, Taylor Swift congratulated Danielle on her engagement. When Danielle asked how she knew of her impending nuptials, the music superstar mentioned that she had heard the news while watching that night's etalk in her hotel room just minutes before arriving at the carpet!
#13
Our etalk TIFF party in 2008 was truly THE party of that year's festival. Not only did Diddy headline an amazing concert in our Queen Street parking lot, but Samantha Ronson DJ'd the soirée inside, bringing then-love Lindsay Lohan as her plus one!
#14
During the 10 days of TIFF, there isn't much that can divert our attention. 2014 was a rare exception. On Day 1 came the news that Joan Rivers had died. Our etalk newsroom was in complete shock and spent all night preparing a 30-minute special. Later that weekend, Traci Melchor flew to New York immediately after interviewing Michael Douglas, to report from Joan's funeral. It's still hard to believe she's gone.
Morley Nirenberg is the executive producer and creative director of etalk.