Oooooh, Orlando!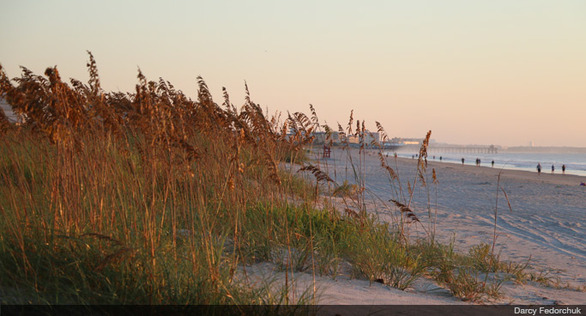 It's easy to see why the Central Florida mecca of Orlando sees over one million Canadian tourists every year.
And the Florida sun isn't the only reason Orlando is so warm. The friendliness of the people radiates through all of the attractions and resorts. My family and I explored the theme park capital of the world this summer, and finally ventured beyond the parks as well.
Cocoa Beach and the Space Coast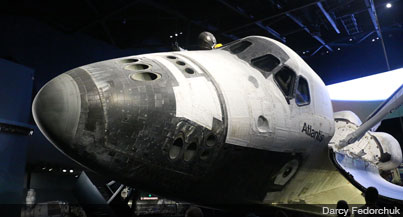 A 45-minute drive east from Orlando International Airport brings you to Cocoa Beach and the Space Coast area. If you can't fathom a sunny vacation without a little sand and sea, Cocoa Beach is an ideal spot to start or finish your vacation when the theme parks are your main focus.
Cocoa Beach has a wonderful, laid-back surfer vibe. Spend your days boogie boarding and playing in the warmer-than-you'd-expect Atlantic Ocean. Then you can grab a burrito at the awesome Rock the Guac, just up from Cocoa Beach Pier, or zip a bit north to Port Canaveral and feast on seafood at Rusty's. The seafood and oyster bar overlooks the port, and we saw dolphins frolicking while we ate. Leave room (and time!) to stop by Lighthouse Cove for a rousing round of mini-golf. It also offers craft beer and delicious ice cream.
Kennedy Space Center is a must-visit. It's a full day immersed in the stories behind movies like Apollo 13 and The Right Stuff, and you'll leave with a greater understanding of the science behind hits like Gravity and The Martian. With all the rocket rides and motion simulators you're likely to experience through your theme park visits, Kennedy Space Center is the real deal. We all left inspired and a little emotional.
With its large, fully-appointed apartments, Resort on Cocoa Beach is a great place to make your home base as you explore the coast.
Walt Disney World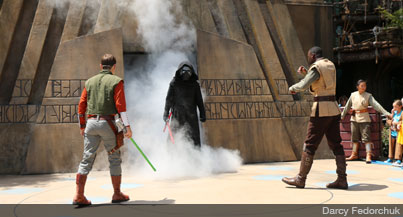 If you're visiting the Orlando area, chances are a stop (or several) at "The Most Magical Place on Earth" is on your agenda. For many families, a Disney vacation is a once-in-a-lifetime event, but that clever mouse keeps introducing rides and attractions to keep more than 50 million visitors passing through the gates of these Florida theme parks every year.
New to Walt Disney World this year are a bunch of Star Wars-themed experiences at Hollywood Studios, including a fireworks show called "Symphony in the Stars: A Galactic Spectacular," movie props, games, photo opportunities, and character meet-and-greets at the new Star Wars Launch Bay. Star Tours and Jedi Training have been updated to reflect the additions to the movie franchise. Jedi Training: Trials of the Temple was a serious highlight of our visit.
Epcot has added Frozen Ever After, a boat ride through Arendelle featuring Frozen's beloved characters and music. Disney's Animal Kingdom is now open at night and has introduced evening events and shows, including The Jungle Book: Alive with Magic, a limited-time nightly show featuring special effects, performers, and music from the hit film.
Staying at a Disney resort is your best bet to maximize your park/sanity ratio. Disney's transportation system seamlessly shuffles you between parks and hotels, and some hotels are within walking distance. We stayed at Disney's Yacht Club Resort which, in addition to boasting an incredible pool, is within easy walking distance of both Epcot and Hollywood Studios.
Universal Orlando Resort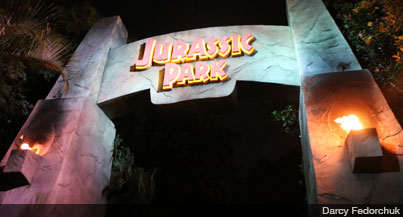 Perhaps the second-biggest draw to the Orlando area is Universal Orlando Resort: two theme parks, two water parks, five on-site hotels, plus top-notch dining and nightlife at the Universal CityWalk.
Most of the rides are more intense than those found at Disney parks, and all are movie- or character-themed. Big hits for our family included Revenge of the Mummy, Despicable Me Minion Mayhem, E.T. Adventure, and Transformers: the Ride 3D, all at Universal Studios, and The Amazing Adventures of Spider-Man and Jurassic Park River Adventure at Universal's Islands of Adventure. The two Wizarding World of Harry Potter areas, Diagon Alley and Hogsmeade, were highlights for our self-appointed Hufflepuff daughter.
On-site hotels include transportation to and from the parks, as well as early admission to the Wizarding World(s) of Harry Potter. Three hotels (Loews Portofino Bay, Hard Rock Hotel, and Loews Royal Pacific) offer Universal Express passes to their guests, allowing them to bypass the lines on most rides. But access to Universal Orlando is very easy by car. We stayed at Lake Buena Vista Village Resort and Spa, a 20-minute drive away. It has spacious, fully-appointed suites, and is next to an outlet mall. The spa even offers Princess and Pirate Makeovers for the kids.
Nature Calls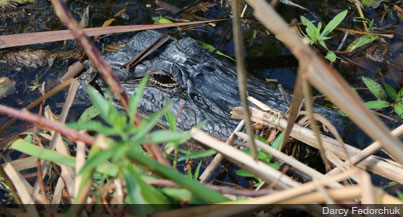 We made a point of experiencing some nature as a foil to the five-theme-parks-in-four-days section of our itinerary. During a tour of the Indian River Lagoon with Island Boat Lines, we saw manatees in the wild. During our Wild Florida air boat ride, we saw three alligator nests and tasted wild lotus seed. Wild Florida also has a large swamp walk as well as a wildlife park, where my kids were delighted to "fish" for small alligators and to feed ones up to 12 feet long with "Gator Chow" pellets.
Corinne McDermott is the editor of Movie Entertainment.