Welcome (Again) to Twin Peaks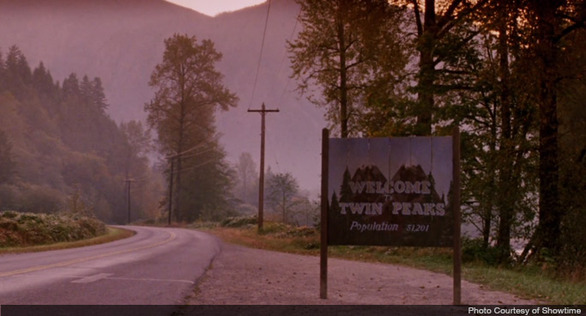 David Lynch and much of the original cast return with 18 new episodes of darkness, cherry pie, and damn fine coffee...
Audiences were hypnotized by the creepy dream sequences, backwards dialogue, and composer Angelo Badalamenti's haunting, pulsing bass and piano score.
Rarely does a series make such an impact that, more than a generation after its premiere, it returns with many of the original actors as well as the original showrunners.
Set "five miles south of the Canadian border," the fictional town of Twin Peaks, Washington, was nestled deep in the woods and filled with murder and intrigue, log ladies, and little people. It was primarily known for its "damn fine coffee."
The original question posed by the series was: "Who Killed Laura Palmer?" Past the first seven episodes, however, few viewers were able to follow the twisted and often baffling storylines. Audiences were hypnotized by the creepy dream sequences, backwards dialogue, and composer Angelo Badalamenti's haunting, pulsing bass and piano score.
At the centre of it all was David Lynch. Now 71, the eccentric filmmaker returns to direct all 18 episodes of the new Twin Peaks.
He made a surprise appearance earlier this year at the semi-annual Television Critics Association press tour. Still sporting that crazy tower of white hair, he sounded like a combination of Alfred Hitchcock and Chauncey Gardiner from Being There.
Twin Peaks, Lynch told us, was a world of mysteries that led to other mysteries. Loath to reveal plot lines, he kept answering questions by saying: "I'm not really at liberty to talk about that."
He revealed that he "fell in love, deep, deep love" with the original pilot for Twin Peaks, which was co-written by Mark Frost. Veteran TV followers, including this one, still consider it one of the greatest TV pilots ever made.
Back for the reboot, 27 years later, are Kyle MacLachlan (as coffee- and pie-loving Agent Cooper), Mädchen Amick, Miguel Ferrer, and Kimmy Robertson. Robert Forster takes over as Sheriff Harry S. Truman from Michael Ontkean, who has apparently retired from acting. Lynch film favourite Laura Dern is also in the cast.
They, too, refused to spill the beans about the new series. Foster told reporters Lynch left instructions for how to handle the press: "Get on that panel but don't tell them anything."
Television comebacks, reboots, remakes, and spinoffs...
Twin Peaks isn't the only series to come back after a long hiatus. Here are some other examples:
33 YEARS
One Day at a Time
Original (1975-84); Reboot (2017-)
Netflix put a Hispanic spin on this single-mom sitcom, with original creator Norman Lear, 94, among the executive producers.
30 YEARS
Hawaii Five-O
Original (1968-80); Reboot (2010-)
CBS brought back the stirring theme song and iconic cop characters, but unfortunately there was no bringing back Jack Lord, who died in 1998.
25 YEARS
Get Smart
Original (1965-70); Reboot (1995)
Can you believe Fox brought Don Adams and Barbara Feldon back 25 years later? But fans said sorry about that, chief, especially after taking one look at Agent 86 and 99's nitwit spy son, Zach (Andy Dick).
21 YEARS
Dallas
Original (1978-91); Reboot (2012-14)
The original was No. 1 for four straight seasons, with the "Who Shot J.R.?" episode of Nov. 21, 1980, still ranking among the highest-rated TV shows ever. But the death of original star Larry Hagman (J.R. Ewing) late in 2012 led to a slide in the remake's ratings.
21 YEARS
Full House
Original (1987-95); Reboot (Fuller House, 2016-)
Netflix revisited the Tanners 21 years later with just about everybody back except holdouts Mary-Kate and Ashley Olsen.
14 YEARS
The X-Files
Original (1993-2002); Reboot (2016-)
Two movies later, executive producer Chris Carter and stars David Duchovny and Gillian Anderson (Mulder and Scully) were back with six new episodes. Will more be ordered? The truth is out there.
10 YEARS
Degrassi
Original (The Kids of Degrassi Street, Degrassi Junior High, Degrassi High, 1978-91); Reboot (Degrassi: The Next Generation, 2001-2015)
The series jumped from CBC to CTV after a 10-year hiatus, with Snake (Stefan Brogren) back as a teacher (as well as a frequent director).
8 YEARS
Beverly Hills, 90210
Original (1990-2000); Reboot (90210, 2008-13)
Original stars Jennie Garth, Shannen Doherty, Ann Gillespie, Tori Spelling, and Joe E. Tata all made appearances in the reboot.
Bill Brioux is a Toronto-based freelance journalist and contributor to the Canadian Press.