Will Ferrell: He Who Laughs Last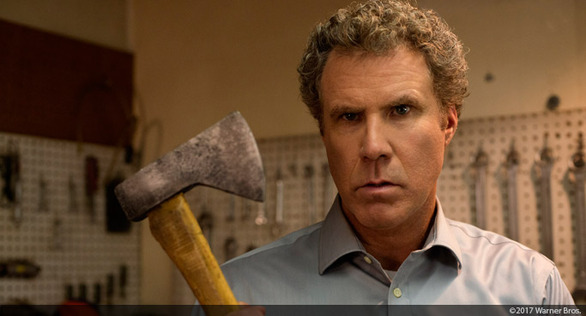 Who put Will Ferrell in charge? At Gary Sanchez Productions, he did...
...No one in Hollywood is laughing these days when they get a call from Sanchez...
Of all his chuckle-worthy team-ups — Spartan cheerleading with Cheri Oteri, bunk-bed-building with John C. Reilly, dad wars with Mark Wahlberg — Will Ferrell's most prolific (and bankable) partnership actually happens offscreen. It's with Adam McKay, who has written and directed 15 of Ferrell's funniest blockbusters. Together they've spun jokes into serious business as the founders of Gary Sanchez Productions.
The guys winkingly claim the production slate was formed in partnership with a Paraguayan financier named Gary Sanchez. The company's website implores: "Please see films so Mr. Sanchez can continue to live like king in poor, unequal country." But no one in Hollywood is laughing these days when they get a call from Sanchez. The company has released 10 Ferrell movies in 10 years — seven of which have each made more than $100 million US worldwide.
Ferrell, 50, and McKay, 49, met in 1995 on their first day on Saturday Night Live. Ferrell emerged as the comedy institution's MVP for seven years, memorably playing such characters as George W. Bush, Alex Trebek, James Lipton, and passionate cowbell player Gene Frenkle. McKay was just as instrumental behind the scenes, spending about half of his six years on the show as head writer. When Ferrell left the show in 2002, he was earning $350,000 US a year, reportedly the highest-paid cast member ever, and went on to play lead roles in blockbuster movies such as the fraternity comedy Old School and the Christmas comedy Elf, both released in 2003.
But despite their individual successes, McKay and Ferrell still struggled to get a movie green-lit: an absurdist comedy about a sexist '70s-era newscaster. "We had, I think, 10 rejections in one day," Ferrell told The Bill Simmons Podcast of the film that would eventually become Anchorman: The Legend of Ron Burgundy.
At one point, they held a star-studded table-read for a financier (future Ferrell bud John C. Reilly also participated). "[The CFO] was like, 'Oh, that was the funniest read-through I have ever sat through! But we can't make the movie,' " Ferrell said. "They had already determined that for whatever reasons, they just weren't going to make any money off that subject matter."
It wasn't until Old School became a hit that DreamWorks wondered if maybe a weird comedy about retro news anchors wasn't such a bad idea after all. When Anchorman was released in 2004, it was a box-office hit, and went on to become an enduring cult classic.
It helped that, dating back to SNL, Ferrell and McKay had established a kind of Ferrell-ian language together. As the actor told Rolling Stone in 2012, he mined comedy from playing characters "with that 'we're No. 1' attitude, and yet horribly flawed." It's an apt description of Ricky Bobby, the cocky, dumb-as-a-Dorito NASCAR star from 2006's Talladega Nights. With Ferrell and McKay co-writing the script and McKay directing, they replicated the kind of unhinged hilarity that defined Anchorman.
Is it any wonder that when they put together their next project, they decided to give themselves a promotion? With only four employees — Ferrell and McKay plus producer Chris Henchy and Ferrell's former assistant, Jessica Elbaum — Gary Sanchez Productions made its first foray into film by distributing the low-budget Danny McBride karate comedy The Foot Fist Way.
Two months later came McKay and Ferrell's first original production, Step Brothers. The 2008 comedy cemented Ferrell and McKay as bankable producers when the movie became another $100-million-plus hit. In addition to such Ferrell-fronted films as The Other Guys (2010), Anchorman 2: The Legend Continues (2013), and Daddy's Home (2015), which topped Elf to become Ferrell's biggest hit worldwide, Gary Sanchez Productions branched out into producing vehicles for other stars.
The company distributed two Melissa McCarthy comedies, Tammy (2014) and The Boss (2016); the off-beat Kristen Wiig indie Welcome to Me (2014), directed by McKay's wife, Shira Piven (sister of Jeremy); plus the Jeremy Renner genre pic Hansel & Gretel: Witch Hunters (2013).
In 2016, Variety reported that Gary Sanchez Productions' films had grossed more than $1 billion US. The company now boasts nearly 100 employees, including those from McKay and Ferrell's other smash-success business, the comedy video website Funny or Die. Elbaum, Ferrell's assistant-turned-co-producer, has spun off a female-focused comedy division, cheekily titled Gloria Sanchez Productions. The company is developing Wiig's directorial debut and a TV comedy with Isla Fisher, among other projects.
Most recently, Ferrell teamed with former SNL co-star Amy Poehler on the Gary Sanchez Productions family comedy The House. Ferrell and Poehler play parents geekily devoted to a daughter about to leave for school. Unable to afford her college tuition, they try to pull a con by running a casino out of their neighbour's basement. Ferrell also reteamed with Mark Wahlberg last year on Daddy's Home 2, which became Gary Sanchez Productions' seventh movie to make more than $100 million US.
"We felt like, 'Stop telling us what the rules are. Let us mess around with the form.' "
But Ferrell still calls Anchorman the favourite among his films, if only because of how hard he and McKay fought to get it made. Take Steve Carrell's wacky weatherman, who was considered too weird by the studio. "We had to tell them, 'He will become your favourite in the movie!' " Ferrell told Variety. "We felt like, 'Stop telling us what the rules are. Let us mess around with the form.' " Now Ferrell and McKay write their own rules. And they're laughing all the way to the bank.
Ryan Porter is a freelance entertainment writer who contributes to the Toronto Star, Flare, and CBC.ca.